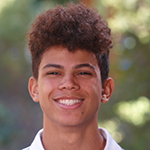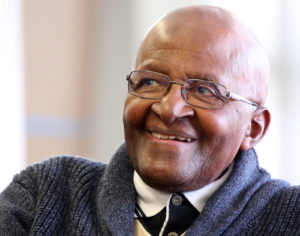 Early mornings in South Africa offer a stillness unlike home. This morning there was no wind, and only a few observable animals. Murky clouds drifted apart to expose a pale sun. The morning's stillness brought with it a feeling of ambition and excitement. Today was one of those "big ticket days" on the itinerary. Deep breaths felt necessary.
The feeling of nervous excitement was carried into our crammed vans and sped right to the Desmond and Leah Tutu Foundation Center, in the heart of Cape Town. At this point, our excitement had peaked. The time had come to enter the building.
We set up the room quickly and sat straight up in our chairs, waiting. The more I sat there the more nervous I became. My palms were sweaty, I trembled. I had no idea what to expect when meeting someone so internationally influential. Nobody dared to crack even a single joke. And then, the door opened.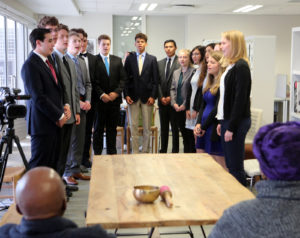 Ward turned to us, "He's here!!!" he mouthed. My heart was pounding. In walked this seemingly small old man who commanded breathtaking respect. Everyone on staff stopped what they were doing and some even bowed to him. His smile was contagious, and he smiled a lot!
We all stood and shook his hand. He passed around the circle until he came to Wagner, who stood stock-still. "Who helped you into that thing?" He jokingly asked, referring to Wagner's suit. "Men's Warehouse," Wagner instantly replied, nervously. Everyone cracked up. Suddenly, my feelings of nervousness dissipated. The mood in the room became one of natural happiness.
Next, it was time for our songs. There must be something special about singing when nervous because when we broke into the first note of our song, it sounded beautiful. The office workers began to gather, and by the end of our pieces, some of them were in tears.
We continued our meeting with Archbishop Tutu by discussing how learning about his work with the Truth and Reconciliation Commission had inspired a class discussion in which we had resolved some of our own differences. It was great to revisit our experience, and he seemed flattered by this.
Meeting Archbishop Tutu was a great experience. It was obvious why he garners so much respect. He conducts himself in a dignified and humorous way, which made us feel comfortable in his presence. It was a truly heartwarming experience.
---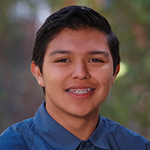 I started out the day confidently, wearing a suit and feeling sharp. This all changed when Ward dropped the bomb that rather than read the statement that I had prepared for our meeting with Archbishop Desmond Tutu the night before, I would instead be, "Speaking from the heart." Well, not only was my heart speaking, it was screaming. I could feel my heart pounding in my chest louder and louder, as we got closer to meeting with Archbishop Desmond Tutu. I nervously practiced what I would say to him with Ward, and kept drawing a blank. Every time I tried to speak I would repeat the first line I wrote. All the things that I wanted to say such as how I found his ability to embody joy and humor, even in extremely trying circumstances, inspirational couldn't cross the threshold of my lips. Eventually Ward helped me get to the essence of what I was truly trying to tell Archbishop Tutu. I found that speaking from the heart sounded much better than reading from a script. I put on a fake smile of confidence, and we all entered the building where our interview would take place.
The serene peacefulness of the quiet and clean building clashed with my own feelings of inner turmoil. Soon, Archbishop Desmond Tutu arrived and I instantly felt less nervous and could feel the whole room get brighter. He immediately began cracking jokes as he went around and shook our hands. We sang two songs for him and then I begin my opening remarks. Looking at his sympathetic eyes and authentic ear to ear smile instantly made me feel more confident, and gave me the ability to truly speak from the heart. I told him how inspirational his message of finding joy in even the most difficult circumstances has been to me. I expressed to him that I would try, in all aspects of my life, to see the joy and hope in every situation and that I would encourage others to do the same.
---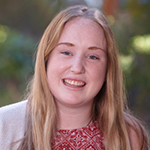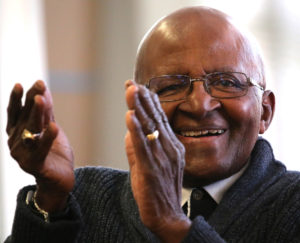 Happiness is the one word I would use to describe our experience meeting Archbishop Desmond Tutu and his wife, Leah, today. As soon as we heard his infectious laughter from down the hallway, I knew what an amazing opportunity this was. Once he and his wife sat down, our class started to sing, and our smiles never left our faces. It's hard to completely put into words how I felt. I had an overwhelming sense of joy and pure bliss being there, in front of such an inspirational person, with my class. One profound, yet very simple, statement that he made was that he was considered a great captain because he had a great team. This sentiment made me truly realize the importance of acknowledging others' gifts, as well as being able to be proud of one's own. I was struck by Archbishop Desmund Tutu's humility about the part he played in the Truth and Reconciliation Commission, which helped South Africa heal and move on from the horrific tragedies that had taken place during the apartheid era. As he told us about what happened, he continued to speak about others and their importance. He kept reiterating that they were the real heroes. Hearing someone speak with pride and true happiness about the achievements of others said so much about Archbishop Tutu's character, and made me feel happy in that moment.
Archbishop Tutu was genuine when he spoke. I will never forget the way I felt being in the room and listening to him speak his truth freely and openly to a bunch of strangers from half way around the world. As cliché as it may sound, Archbishop Tutu's smile and unforgettable laugh has left a lifelong imprint on my heart.