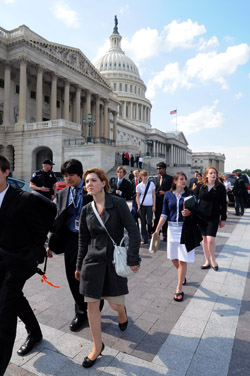 The Values interview trip to Washington DC in May of 2008 was one of the most exciting in the history of our program which goes back to 1989.
Here the students told the story as it unfolded and it give some idea of the excitement and discovery that were a daily part of the experience.
We take this unusual journey to the nations capital every other year. By good fortune, hard work and many friends we have been granted unusual access to the halls of government. Over the past almost 20 years we have be developing our program that allows our students to engage with a diverse group of thoughtful and dedicated people, both inside and outside of government. We have been able to sit and speak with such iconic leaders as Congressman John Lewis of Georgia, Justice Sandra Day O'Connor, presidential candidate Congressman Dennis Kucinich, Deputy Secretary of State John Negroponte. former House Speaker John Foley, and former Secretary of State, George Shultz. We have also interviewed dynamic young leaders such as Alyse Nelson, President of Vital Voices, an nongovernment organization empowering women around the world. Layli Miller Muro of the Tahiri Justice Center who is working to combat gender crimes around the world, Maria Pacheco, a social business entrepreneur, who is inspiring womens' business collectives in Guatemala These extraordinary people who operate outside government are making enormous contributions to the betterment of our world.
We learn from this diverse group about vision, courage, perseverance, hope, and most importantly about ourselves and our own quest for meaning. We hope you will take time to look at the blogs and read some of the interviews with this very dynamic group of leaders from a wide variety of jobs and points of view. Our next trip will be in 2010 to see how things have change in Washington DC as a result of our recent shift in leadership.
About the Program
Values In World Thought Tour
We began the Mount Madonna School Government in Action program in 1989 to provide our students with a personal understanding of government and a more accurate picture of those who devote their lives to a broad range of public service activities. Over the years this program has produced remarkable results far beyond anything we initially envisioned. To quote one student,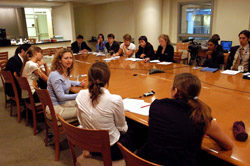 "I feel I have just fallen in love with the possibilities of my future and my newly discovered faith in myself." Belle Potter – Junior
Today our program has evolved into an even deeper inquiry into the values that inspire a life of service. We have retitled the program, The Values in World Thought Tour to connect it more closely with our unique twoyear "values" dialogue for juniors and seniors at Mount Madonna School. More recently our students have traveled internationally to interview leaders in other parts of the world. Last year as part of a joint project with the Dalai Lama Foundation, we traveled to India to interview the Dalai Lama, the President of India and American Ambassador David Mulford. This journey will be the subject of a documentary to be released this summer. Even more recently a group traveled to Ecuador to spend time in the Amazon Rainforest to learn first hand about the issues facing that region.
On alternate years we come to Washington, D.C. where we have been fortunate enough to attract some of our nation's finest public servants. We look for those who are vitally involved in trying to improve the quality of life in our nation and around the world. Interviews usually last 45 minutes to an hour. The students come prepared to ask thoughtful and stimulating questions. We are most interested in understanding why people have chosen a life of public service and to discover what they have learned along the way that might be helpful to those just setting out on their journey. Whenever possible, we videotape our conversations so they can be shared with other students through DVD's and our student generated web site. Currently we are working on a new curriculum titled, Exploring a Life of Meaning that will include many of our interviews.
This experience has become an important a rite of passage for our students; something they eagerly look forward to as a part of becoming responsible adults in their community. Most importantly it changes forever the way they look at public service. As each year unfolds we are discovering new opportunities to broaden the scope and impact of this program. This year, we have a wonderful group of 21 juniors and seniors who will participate. We will be uploading stories every day to a student run blog, and to a web site sponsored by our local newspaper. In 2006 to everyone's surprise we had more than 5000 visitors to the website during our journey. Please visit http://www.mountmadonnaschool.org/gov06 to see what the students have accomplished on earlier journeys. If you are interested in seeing the Dalai Lama project you can go t ohttp://www.projecthappiness.com and click on "Watch the Trailer".
MOUNT MADONNA SCHOOL
GOVERNMENT IN ACTION TOUR 1989 2008
Past Participants
Federal Government
Supreme Court Justice Sandra Day O'Connor
White House Chief of Staff, Leon Panetta
National Security Advisor, Steven Hadley
White House Chief Exec. Usher, Gary Walters
White House, Director of the Executive Residence, Admiral Stephen Rochon
White House Press Secretary Mike McCurry
First Lady's Chief of Staff, Melanne Verveer
Director White House Visitors Office Melinda Bates
Deputy Chief of Staff to VP Dick Cheney Dean McGrath
Secretary of the Interior, Bruce Babbit
Secretary of Health and Human Services, Donna Shalala
Deputy Secretary of Education, Marshal Smith
Under Secretary of the Navy, Carolyn Becraft
Former Secretary of State George Shultz
Deputy Secretary of State, Robert Zoellick
Deputy Secretary of State, John Negroponte
Under Secretary of State, Thomas Pickering
Under Secretary of State, Marc Grossman
Under Secretary of State, Paula Dobriansky
Executive Assistant to Secretary of State Powell, Craig Kelley
Ambassador Pifer
Ambassador Barbara Bodine
US Ambassador to India, David C. Mulford
Senator Alan Simpson
Senator Diane Feinstein
Senator Craig Thomas
Senator Barbara Boxer
Former Senator William Fulbright
Senator and Governor Pete Wilson
Former Speaker of the House, Congressman Tom Foley
House Speaker, Congresswoman Nancy Pelosi
Former House Minority Leader Dick Gephardt
Congressman John Dingel
Congressman Adam Putnam
Congresswoman Ann Eshoo
Congressman Sam Farr
Congressman Dennis Kucinich
Congressman John Lewis
Congressman Norman Minetta
Congresswoman Connie Morella
Congressman Barney Frank
Congressman Sensenbrenner
Congresswoman Zoe Lofgren
Congressman William S. Mailliard
Congressman Anthony Weiner
Congresswoman Barbara Lee
Congressman Ron Paul
Congresswoman Debbie WassermanShultz
Congresswoman Jackie Speier
Congressman Jim McDermott
Non-Government Leaders
President of Vital Voices Alyse Nelson Bloom
Founder Justice Department's Violence Against Women's Office, Bonnie Campbell
U.S. Representative to the World Bank, Jan Piercy
General Council to the Peace Corps, Nancy Hendry
Layli Miller Muro – Founder of the Tahiri Justice Center
Press
Wall Street Journal, Al Hunt
Crossfire, Bill Press
Leher News Hour Correspondent Ray Suarez
Washington Post columnist David Ignatius
Eilene O'Conor, President of International Center for Journalist
Joe Seigle, Council on Foreign Relations
Tom Honig, Editor Santa Cruz Sentinel
Leaders of Other Fields
His Holiness The XIV Dalai Lama
Abdul Kalam – President of India
Bill Moyers – Journalist
George Lucas – Film Maker
Richard Gere Actor
Fritjof Capra Scientist, Author
Ernesto Cortes – Community Organizer
Angeles Arrien Anthropologist, Author
Margaret Wheatley, Organizational Development, Author
Peter Block, Organizational Development, Author
Sobonfu Some, Indigenous Wisdom, Author
Jim Whittaker, 1st American on Mt. Everest
Nirmala Deshpande, Gandhian Member of Raja Sabha (Uppoer House of Indian Parliament)
Vivian Wright, Strategic Planner Heweltt Packard
Ed Koch Fmr. Mayor of New York
Prof. Michale Sandel – Political Philosopher, Harvard
Sara Lawrence Lightfoot – Educator, Harvard
Professor Tu Weiming – Confucian Scholar, Harvard
Jacob Needleman – Philosopher
Farida Azizi – Human Rights Activist, Afganishtan
For information please contact:
Ward Mailliard
Phone: 4088478832
Project Leader Email: [email protected]