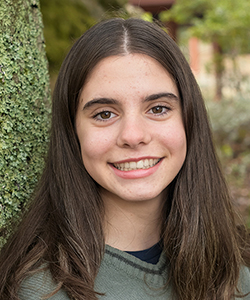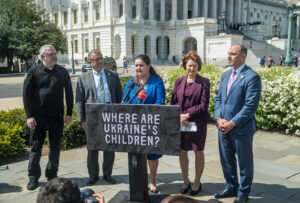 You never know what or who you'll encounter in this town. We were scheduled to do a meet and greet with Rep. Panetta, but when we arrived at the Capitol to meet him he was speaking in a press briefing about the International Criminal Court's charges against Vladimir Putin. However, the event turned out to be a great learning opportunity. Rep. Panetta's scheduler, Alexa, let us through so that we could stand with the press. Rep. Panetta was joined by Rep. Don Bacon, Sen. Amy Klobuchar, and Ukrainian Ambassador to the US Oksana Markarova.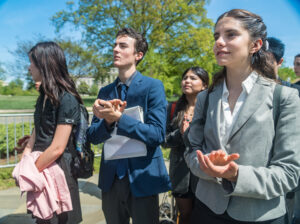 The purpose of the press briefing was to bring attention to Russia's taking Ukrainian children back to Russia. Oksana Markarova described how by taking away Ukraine's children, Putin is taking away part of their country, because a nation without its youth has no future. This idea particularly affected me, as it is horribly cruel to take children from their families, especially since Putin is trying to take back a country that rightfully gained its independence in 1991. Ukraine has a rich culture, and I'm hopeful that Russia does not succeed in destroying it.
As the press briefing ended, we made our way to the steps of the Capitol, where Shannon explained that this is the first time in history that the ICC has issued an arrest warrant for the leader of such a large country and that this is a very big deal. Not only were we fortunate to witness such a historic moment, but we were fortunate to stumble upon such a great learning opportunity.
---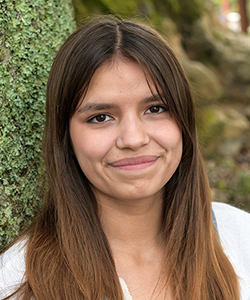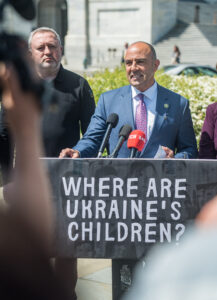 Before our meet and greet with Rep. Jimmy Panetta today, we were fortunate to attend a press brief on the Ukraine War. With the Capitol in the background, Rep. Panetta, Rep. Bacon, Sen. Klobuchar, and Oksana Markarova, the Ukrainian ambassador to the U.S, discussed the International Criminal Court's charges against Vladimir Putin for his kidnapping of Ukrainian children, as well as Panetta and Bacon's House resolution in support of the ICC.
As they spoke, I felt sorrow and anger. Prior to the press conference, I had been aware of the invasion of Ukraine, but I was unaware of Putin's atrocious scheme to take children from Ukraine to bring them to Russia. Throughout the brief, I learned that only 306 out of the 16,000 Ukrainian children who have been taken from their families have been returned to their homes. Rep. Bacon accused Putin of "ripping them from their sunflowers, from their culture, and from their blue and yellow flag." Later, after our short conversation with Rep. Panetta, I learned that by taking these children from their families and indoctrinating them into Russian culture, Russia is attempting to strip them of their Ukrainian identity, thus "breaking apart the Ukrainian country."
Reflecting on this experience, I came to an epiphany. While it is easy to focus on issues relating directly to me and my country, international issues are just as significant. Witnessing this press briefing first hand inspired me to learn more and work to solve issues on an international scale in general. More specifically, I want to advocate for issues that are important to me. As Judge Friedman told us earlier in the day, I may not yet have a vote, but I do have a voice that I can use to advocate for myself, my country, and my world.
---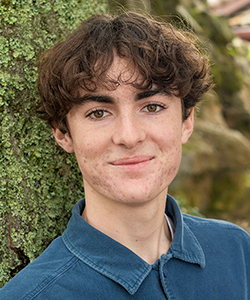 Congressman Jimmy Panetta met us on the stairs of the Capitol today so we could talk to him and ask him a few questions. He had just finished a press conference regarding the kidnapping of Ukrainian children by Russian forces. It was exciting to see him in real life because I have seen his face on signs and posters all over Santa Cruz. I could tell that he is an experienced politician by the confident way that he carries himself. Talking to him was very interesting, but I was disappointed that we didn't get to interview him formally, because I have several questions I would love to hear him answer.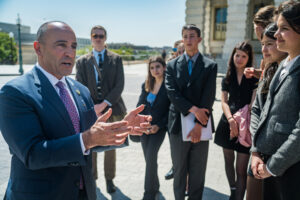 The first thing he spoke about was the importance of public service and why selfless work for the good of others is beneficial. I already knew that he had served in the military, so I asked him if that was his first job in public service. He impressed me with his response. He described the various public service jobs he held before and after the military, including working in restaurants as a waiter, doing maintenance work, doing cleaning work on a fishing ship off the coast of Alaska, and a number of other hard jobs.
Not only was I impressed and motivated by the things he had to say, but I learned a valuable lesson from him that applies to my life right now while I begin thinking about college and my future. He said it is all right not to know exactly what you want to do yet. There are many decisions and challenges that I will face in life, but they don't all have to be faced at once, so there is no need to stress too much about the future. He emphasized the idea that the best way to decide what you truly want to do is to try everything and see what you like. He also emphasized the idea of becoming good at whatever you do as a way of building character: "Be the best at everything you do, no matter what." Every job is important, and working hard is the best way to move up and succeed. I am determined to always remember what he said and put it into practice in my own life.