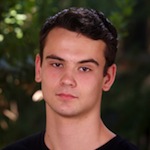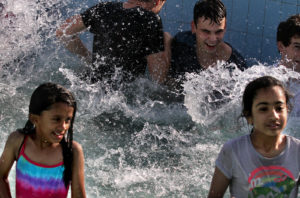 Due to the graciousness of Rashmi, we got to experience "swimming" at the ashram. The pool was only going to be filled a little more than knee height, and to be honest I wasn't expecting much. After all, knee height doesn't offer much for my "thick," 6'2" body. Yet, considering the heat, the call of the cool water was just too enticing.
As soon as we were released from dance practice Devyn, Isaac, and I sprinted over as a cohesive unit ready to dive into the shin deep water. As soon as we arrived, we realized it was filled to the brim with all the kids. We hesitated but the lure of cool water was too strong. Our entrance seemed to be the spark of the GREAT SPLASH WAR and as we engaged in battle we tried to keep the water out of our mouths. Our efforts were made even more futile when Naresh, a 16-year-old ashram brother, entered the war by immediately tackling me into the water. Devyn, Isaac, and I almost instantly had our backs against the wall as the whole pool turned on us as we desperately defended our position. After successfully defending ourselves from the first round of attacks, I found myself betrayed by my former comrades. I was getting bombarded from every direction. My attempt at the fetal position against the wall offered little refuge.
Over all, this was a great way to end my day. In addition to having a blast, the pool party served as an opportunity to interact with the younger kids I had not yet gotten to know. Unique moments like this, at Sri Ram Ashram, allow us to deepen our relationships and encourage cross-cultural interactions. This is one of the many attributes of the ashram that makes it the special place that it is.