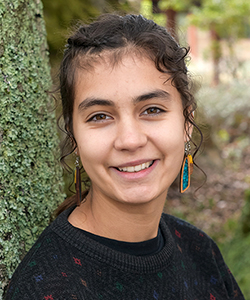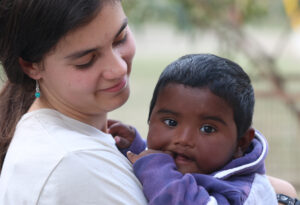 After an hours-long bus ride from Delhi, we arrived at Sri Ram Ashram in Shyampur, Haridwar. The sights from the ride included dense cityscapes, with each building having a distinct style from the next, green farmland, vibrant murals, and hazy skies. We took a pitstop an hour or two after leaving Delhi, and I walked to the roadside chai stand with Devin, Shmuel, and Sam. The whole exchange was quite peaceful, despite the chaos of vehicles and people talking around us. The breeze was constant and I was fixated on the vendor's quiet mannerisms and comfortable movements as he boiled the chai and poured it into clay cups that would later be tossed into a ditch and reabsorbed into the ground. I did not drink any because I was much more interested in observing, even though the interaction may have seemed commonplace or inconsequential from an outside perspective. I have started to realize that India is full of these moments of beauty and wonder within everyday activities or sights; it is living art.
Within the first few hours at the Ashram, I had made friends with several children and was learning each of their names. There are around forty kids currently at the Ashram, and multiple "alumni" who have returned home for their sister Babita's wedding. I played (and won) knockout in the dirt field/basketball court, and each time we restarted the game, I became more aware that this was going to be an exciting week. The kids were confident in speaking to me, even if we didn't fully understand each other all of the time due to language barriers. Some of them held my hands and asked me questions with a genuine curiosity that I don't often see when people talk to each other. I was amazed by their energy and couldn't help thinking about how timid I was and still am in new situations.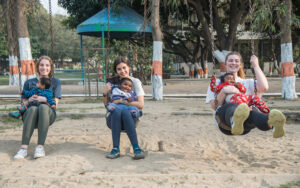 After dinner, I walked back and forth in the courtyard with two girls named Sita and Tanya. Sita, who was twice as old as Tanya, taught me some Hindi phrases and I practiced with both of them so that I would be able to communicate with the kids who didn't speak much English. Their laughter and smiles made me feel eager to practice and learn more in the coming days. 
The children, alumni, and staff at the Ashram, have an infectious kindness and openness to them, which makes me excited to interact without fear of being judged. I have struggled often with being outgoing in new situations, and the Ashram community, from the older girls I walked to the Ganga with and got ready with for Babita's Mehendi ceremony or the younger children who call me "Zoey didi" and invite me to play games with them, have made me feel that much more confident and determined to embrace the intention behind our trip, connection. I know I will be sad to leave the Ashram on Sunday, but I am so fortunate to have been able to experience this place and spend time with those who make it so special.
---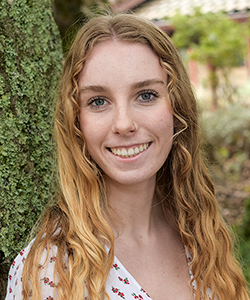 Today was one of the most memorable days of this trip for me. The day started off with a ceremony called haldi where the bride sits under a cloth in a circle of flowers, and the guests dip bunches of grass in oil and tap her feet, hands, shoulders, and the top of her head five times. Next, we smeared a turmeric paste on her face and she put it on our cheeks. Then, laughing, everybody ran around smearing the turmeric on each other's faces.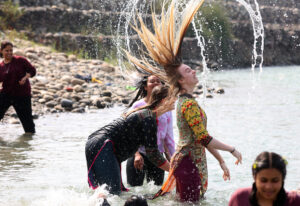 Later, we walked to the Ganges River with many of the college age ashram kids. This was one of the most memorable moments of my life. We were surrounded by so much love and welcomed with open arms. Splashing and playing in the Ganga felt like a fever dream. There wasn't a second that went by without laughter, and the squeal of joy from the chilly touch of the water. Even though I'm far away from home, I feel at home with the people here and my classmates.
Later in the evening, all of the women and girls got Mehendi on their hands in preparation for the wedding. The Mount Madonna School students even got to perform a dance that was taught and choreographed by Anjali, an alum of the ashram. It was so much fun. Afterwards, everyone danced for hours, celebrating Babita's upcoming wedding.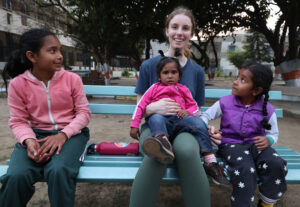 As I reflect on this trip, and what is to come, there is a constant smile on my face. Being at Sri Ram Ashram has only brightened that smile. Playing with all of the kids is a memory I'll never forget. Every second is filled with so much love and joy, Babaji has a well know quote that says, "Love loves love." The ashram is a clear reflection of that. Most of these kids started out with so little, but they have so much love to share and give. I've only known them for two days, but the connections I've made with them feels like it's already been a lifetime. I count down the minutes waiting for the kids to get out of school to play Knock Out with them, or have the little girls braid my hair.
Our trip name, Sambandh, summarizes this trip perfectly because I have made connections I want to keep forever. This is a place that I want to keep coming back to. I want to watch these kids, who are my new best friends, grow up and become something amazing.