Dancing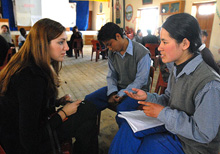 Today during lunch I had time to speak with a few Tibetan Children's Village (TCV) students about dance. They showed me some footwork for traditional dance, and I showed them some break dance moves. It was difficult to compare moves when our styles were so different. Despite the differences, it was nice to talk about dance, which is a major part of my life. I think this conversation brought us closer together because it was something that all of us could relate to and share. It was not profound or life changing, nor was it the reason for our visit, it was just light conversation, which is something also to be valued in the midst of contemplating lasting happiness.
-Xander Crawford
---
A Day in Dharamsala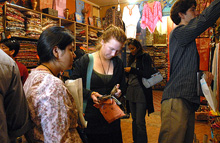 I woke up at 7:30 am to a chilly, but beautiful morning. Dogs had been fighting outside our window at four in the morning and were so loud that when Maddy and I woke up, we both commented on how annoying they were. As a result, we were tired from the moment we got up and complained about it most of the day.
Despite being tired, we had to go join the TCV kids to work on our Guidebook to Happiness. We all sat in a big circle for an introduction and then divided into group. I had a little bit of a mental breakdown (or perhaps I should call it an attitude breakdown), so I did not participate fully. But for our closing circle my mind woke up. The question we were asked to address was very interesting and the answers were very thoughtful. The question was "How has the book changed you?" The kids from the TCV had really outstanding answers. I could tell that reading the book really affected their family, friends, and, most of all, themselves. Behind their answers were honesty, pride, sadness, compassion, and inspiration. I could feel that we all were sharing a universal laugh and smile. It was very sweet. The kids are just adorable.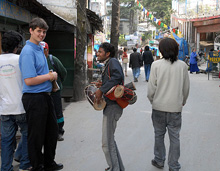 On our way back down the hill we got dropped at the main shopping area in town. Maddy and I are buddies for the trip, so we took off together. We are the best team to go shopping with and are very hard core. I speak the language and she does all the bargaining. We both sometimes helped others with their negotiation, but mostly we walked down the strange streets of Dharamsala all by ourselves. I have met so many strange and interesting people on the streets here, and it keeps making the trip more interesting.
P.S. If you want to go shopping in India, call Maddy and I and we help you shop till you drop.
-Prabha Sharan
---
My Experience of Dharamsala
We left the train station at about 9:15 pm from Delhi on 24 March and arrived at Pathankot in the morning. This was my very first time in the train. I have had a number of firsts already as a result of this trip. First time to travel out of Jos, first time on an airplane, first time to India, and so on.
I'm in Dharamsala right now, but I cannot forget the roads and houses, the mountains and tall beautiful trees passing by in a hurry. Dharamsala and indeed India presents a sharp contrast with Nigeria. In Dharamsala difficult terrain has been positively transformed to human advantage. Beautiful roads and magnificent buildings have been so carefully erected beneath, and right at the tops of the famous Himalayan mountains, which I am told are among the most beautiful and tallest in the world.
On 25 March we went to the Tibetan Children's Village school situated at the top of the upper Dharamsala in the mountains. At the school we had a wonderful display of the rich cultural heritage of all three groups of students- the Tibetans, the Americans and the Nigerians.
On the morning of 26 March we returned to the Tibetan Children's School for a learning and exchange session based on the Ethics for the New Millennium. Students were grouped into threes to learn and listen to one another and then share with the larger group, what they learned and understood about one another and the book. We also had breakfast and a great feasting of the rich Tibetan food. It was also an opportunity to make new friends and cement the bond of unity among us.
Then came another interesting moment. We all went into the market and streets of Dharamsala to meet the people and places of interest. I visited a number of shops, visited some famous temples and then went to Chonor House for dinner. Later it was back to the Kashmir Cottage for sleep.
-Mercy Bisi Olatunji
---
Homes of Brothers
Jonji, John-Nuri, and I were lead up a pathway of cobblestone stairs by Ngawang toward the boys' dormitory. As we looked around at the TCV school area, we were joined by Dorji who had TCV's list of questions for the Dalai Lama. John read them aloud and I found them to be well-written and very thoughtful. Ngawang and Dorji conversed in Tibetan and then asked if we would like to see the school's monastery. After arriving there, we took our shoes off and stepped in the holy place. The pictures of His Holiness and artwork of Tibetan gods were very pretty. We left and walked up even more stairs and finally stopped at a concrete building that was their dorm. The boys led us through corridors which connected tons of identical-looking rooms. A flitter of sadness washed over me as I looked at the dirty halls and rusted windows, but it vanished as the happiness of the kids lifted my spirits. They lead us through rooms and kitchens as we left the 11th grade dorms and headed to the 12th grade dorms where most of the Project Happiness students lived. As we walked we were joined by yet another TCV student, Dawa, who was excited to see us. We trudged up yet another never-ending flight of stairs as we joked with and about each other and laughed. When we entered the dorm, we were lead through a maze-like structure with so many flights of stairs that one could get easily lost, but these boys knew the way blindfolded. We reached the top of the building and stepped out onto a balcony that overlooked all of Dharamsala. It was beautiful. We could see the Himilayas so clearly that it felt like you were looking at a postcard. We sat on the railing and joked about how Jonji thought that they lived like Harry Potter. The six of us sat and laughed and just enjoyed our new friendship and beautiful surroundings.
-Luke Sanders-Self