Walking the Kora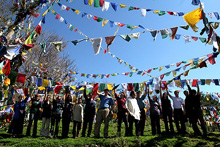 The Kora is a path that leads around the Dalai Lama's residence and temple complex. As we walked along the path, enjoying the views of the beautiful Himalayas spanning the horizon, I could feel a deep and powerful presence on this path. We walked as a group, passing monks left and right, all of them with mala beads in hand. There was a feeling of prayer on the path, almost as if it held the devoted energies of every practitioner that walked in silence along it.
We walked through a dense forest filled with carved stones all holding the holy mantra "Om mane padme hum". Coming out of the woods, the path opened into a courtyard lined with Tibetan prayer wheels. I spun the wheels, focusing on a prayer as the clinking of wooden cylinders filled my head with the melody of concentrated cacophony.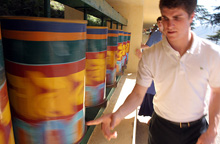 Up from the prayer wheels was a hill filled with Tibetan prayer flags hung between poles and trees. The belief is that the higher up you tie them, the luckier you will be. We were led up the hill and came to rest in the middle. It was here that I took a moment to think. Standing amongst a literal field of colored prayer flags, I let the feeling of tranquility and mindfulness that exuded the beautiful pieces of cloth enter my body and calm my mind. I have always had a fascination with spiritual practice. My parents raised me with a sense of religious freedom; they always let me know that they would never pressure me to go to church or temple. I was always given the freedom to choose whichever religion worked for me. So far I have yet to make a decision. The result of this, however, is that as I stood amongst the prayer flags I felt that I was able to see straight into the spiritual and meditative intent of each prayer. It would not have mattered if the prayers came form someone of a Buddhist, Hindu, Christian, or any other religious perspective, because the intent was the same. The practice of mindfulness was consistent throughout each flag.
I made a connection from the flags to our project. In Project Happiness no matter where we are coming from, California, Nigeria, or the Tibetan Children Village, we have to remember that just like the prayer flags that come from people with different beliefs and backgrounds, our intentions for this project are the same: to be happy, and not to suffer.
-John-Nuri Vissell
---
Another Goodbye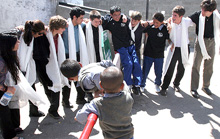 Yesterday we had to say goodbye to the kids at TCV. The hardest part of this trip has been all of the goodbyes. It was astonishing how close we became over only four days. They gave us Katas as gifts, we gave them Mt. Madonna T-shirts, and we all exchanged friendship bracelets. There were lots of smiles for pictures, and tears on and off camera. They were so sad to see us go, and we were sad to leave. I thought about how many times they have said goodbye. Goodbye to their families, goodbye to their country, and yet they took us in with welcoming arms even though they knew that we would all have to say goodbye once again.
-Emily Crubaugh
---
Pain of Goodbye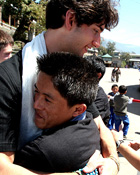 Once again we leave another fantastic group of people. And once again my entire being aches for our return. This must be why I spent so many years trying to be removed from it all. It hurts too much to lose something that you hold so dear. Each time I touch the bracelet or pin that was gifted to me, remember their faces, or more importantly, how they made me feel. They were so happy. Only once did I see a hint of sadness in any of their faces, and that was at the mention of the Dalai Lama interview, which some did not get to attend. There is something about the Tibetans I encountered that left a lasting impression that they were happy, that they were genuinely excited to be in our company. I wish I could go back. I wish I could freeze time so I could spend more of it with them.
This project has given so much to me. It has changed my way of thinking so that it is geared more towards happiness. It has brought me all the way to India where I have been exposed to new cultures, and it connected me to so many new people. There are so many new people that I will now miss. Whoever said that the leaver feels no pain? This trip has just been a series of connections and separations, and soon we shall be separated from the place as well as the people. Less than two days left. That is al I have in the heart of India.
-Jeremy Thweatt
---
The Colors of Tibet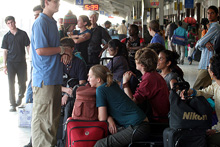 Red, Orange, Green, White, and Black. These are the colors of Tibet and those that have become so much a part of me. Our time here has been incredible. Sharing laughs, tears, stories, and friendship…but finally it has come to an end. Leaving Dharamsala was something that I never anticipated to be so hard. Leaving the landscape and the culture is one thing, but the kids is another.
I've never been very good at goodbyes. Beginning with our family and friends at home, to the kids at the Ashram, and now finally the kids from the Tibetan Children's Village…there have been so many goodbyes on this trip and with each it seems a progression of difficulty for me.
Sitting in a circle in the cultural arts theatre of the TCV, each of us said something to what our experience here has been…each with a special moment or moments that have had particular meaning for us. After that we exchanged friendship bracelets with the Tibetan colors threaded through them, gave hugs, and finally ended in group song lead by Yeshi, the TCV teacher, with all of us joining in. I could never forget these people, the laughs, the singing, and our final departure from Dharamsala. It's bittersweet. We are leaving them forever but they are forever in our hearts And forever wrapped around my wrist will be these colors, the colors of Tibet and of friendship.
-Naomi Magid