Professor Akbar Ahmed
Professor Akbar Ahmed
As an American student, I know little about Islam. I've spent some time trying to educate myself but it was too complicated for me to understand. The past few years I've been stunned by how much Islam comes up in American politics, and why don't I know more about this.
As we got off the bus at American University, I was pondering this very thought. Ambassador Akbar Ahmed, now a professor at American University, is considered the leading scholar on Islam. I was ready to learn.
Professor Ahmed came to our meeting with a lesson plan and went straight into a college level lecture. He made it clear that he wanted to educate us on Islam, he asked us to "keep scribbling" notes as he spoke. After bombarding us with statistics and explaining why our generation needs to know about Islam, he proceeded to draw parallels between the grassroots of American society and Muslim culture. Though I didn't get to ask my question, I learned a lot from him. He reinforced that learning about Islam will be required in order to understand world culture in the coming future.
I had a deeper question I wished to have answered; why is it natural for many Indians to have contempt for Muslims? It wasn't fair, but it wasn't questioned in Indian culture. It seemed as though after the Partition of India in 1947 that a large group of nationalist Indians began to despise Islam.
The lecture ended and I began to gather my things, selfishly frustrated that my question hadn't been answered. Then, in a flash, Ward pulled me into his post interview conversation with Professor Ahmed and asked me what I gained from the interview. I went straight into what I learned a lot about the importance of Islam, but that I wanted to learn the roots of the tension between Muslims and nationalist Indians. Before I finished my rapid rant, he stopped me and asked me if I was a Sikh. Beaming, I replied affirmatively, and without answering my question, he virtually read my mind and appeased me in one sentence.
"I have many Sikh friends, Jasbir, and like them, I know that a Sufi Muslim laid down the first tiles of your Golden Temple." I left the room feeling completely lit by hope. Simply by linking cultures, we as a future generation can bridge the gap between social disagreements. It just takes the effort of research, friendliness, and open communication.
-Jasbir Nijor
---
Admiral Rochon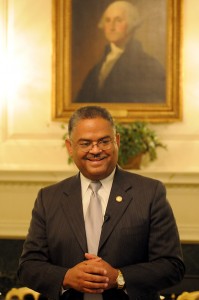 Admiral Rochon
Director of the Executive Residence
Chief Usher
Director of the Executive Residence and Chief Usher. Despite the intimidating title, Admiral Rochon must be the most down-to-earth man I've met on this trip so far. It is almost as if he isn't aware of his important position in the White House.
Admiral Rochon began in the Coast Guard, during the latter days of the Vietnam conflict. He had only planned to stay in the military for a short while, but instead he found himself working his way up through the ranks. He told us that he has received a couple of very important phone calls during his lifetime. The first call was from the Commandant of the Coast Guard, just as he was preparing to retire from the military, asking him to become an Admiral in Cleveland. The second, from the White House, asking him to consider interviewing for the spot of Chief Usher at the White House.
Not once during our interview with him did he make it sound like he was taking credit for his current position. He is incredibly humble. Admiral Rochon made the statement "You don't run away from your commitments." He definitely seemed to be a true example of what he preaches.
As he walked us down the hallways of the White House, he made our country's history come alive. A life devoted to public service, is a life built upon deep roots and values. Admiral Rochon made it very clear that he believes that we should NEVER compromise our integrity and that we should ALWAYS be fair and equitable. "Getting ahead" in a real sense would not be possible if we sacrificed any of those values.
We got to the core of his management style when he elegantly stated, "This house is made of limestone and sandstone, but it takes flesh and blood to run it." It's the same with our country. We are made of hills and valleys, deserts and lakes, but it takes the hands of the people to create a nation.
-Hannah Meade
Going to the White House! Just these words are enough to send chills of awe and anticipation down anyone's spine. In our case, we were still trying to believe our luck when Admiral Rochon, Director of the Executive Residence and Chief Usher of the White House, walked through the East Wing doors and welcomed us. You have to understand, we had no past history or connection to Admiral Rochon so the possibility of an interview, let alone a private tour was farfetched until we were standing in front of him.
I don't believe I have ever felt the love and pure admiration as I did today for our country's history. Every chair, every mirror had a story. Admiral Rochon graciously took us through an extraordinary tour of the East Wing, entertaining us with "fun-facts" along the way. It was late in the day so all of the usual tours had finished and we were alone with the staff inside of the big White House on the hill. The Admiral would take down the long ropes that were blocking off rooms and we were allowed to sit carefully on chairs made in the 1800's. He led us through room after room and history was made real to us. We saw a portrait of George Washington that Dolly Madison saved when the British set fire to the White House in 1814. We had a glimpse from outside the Map Room where President Franklin Roosevelt practically lived during World War II as he monitored military activities around the world. We stood on the front steps underneath the huge columns of the White House, the green lawn spreading out before us, and realized that this was our world, our history, our chance to experience a piece of national heritage, and this was only possible because of Admiral Rochon.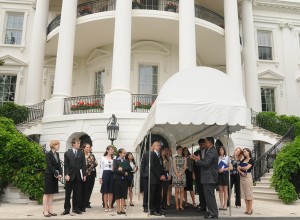 Admiral Rochon went far and beyond any of our expectations and we are forever indebted to him and his graciousness. This day will forever go down in our personal histories and may have even changed the course the future for some of us.
-Ashley England
The White House – Admiral Rochon's Tour