Layli Miller-Muro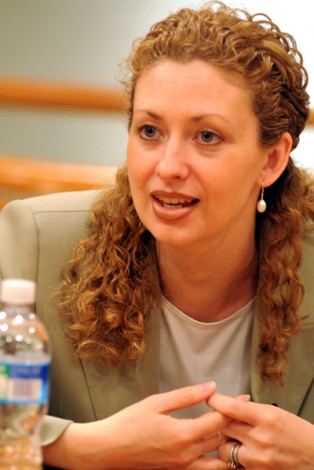 Layli Miller-Muro is a lawyer. She founded the Tahirih Justice Center, a non- profit organization dedicated to providing legal aid to women around the world who are in serious and dangerous situations. When she was still a law student, she took on a case that may have changed the course of her life defending Fauziya Kassindja, a seventeen year old girl seeking asylum from female genital mutilation (F.G.M.) in her home country. She was assigned the case, because earlier she had written a paper regarding whether or not F.G.M. could be the basis for asylum. It is amazing that Layli while still a student pioneered a change in asylum laws to include gender based persecution. But you would never find out from her. A modest woman, she does not boast about the wonderful things she has accomplished for woman's rights. She believes, "you will be very disappointed and you will also burn out very quickly if you're working to be recognized."
We asked her what was the original spark that motivated her to be so interested in issues of social justice. She responded that it came from growing up in Atlanta as a member of the Baha'i community. This provided Layli Miller-Muro many opportunities to develop relationships with kids from many different backgrounds. As she grew older, she began to notice a difference in the way people treated her compared to how they treated her friends of color. This realization, among others, was what sparked her passion for justice.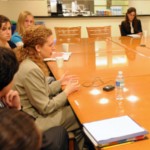 A woman of endless grace, she works tirelessly for her clients. She said that it is important not to impose her personal values onto her clients. It is not her place to convince them of what they should do or force her beliefs onto them. It is about helping them in any way she can to tackle the problems that they want to solve. She tries to maintain a balance of being passionately and emotionally committed while knowing her limits. She understands that she cannot change people; she can only encourage them to change themselves.
I can't say I'm envious of her position because I doubt my ability to show up to such an emotionally straining job every morning, but I can voice my endless respect for her and her colleagues in the Tahirih Justice Center. They are making a critical difference in many women's lives.
-Hannah Meade
Friday Reflection
The trip is half over. Our journey is at the turning point and I have already hit a kind of euphoria beyond what I can really express. It is hard to imagine what the next week will have in store for us. Tomorrow we leave the city of Washington, DC that already seems like home and head to the countryside that is yet to be experienced.
Looking back on this past week, I cannot fully understand what has happened. It is beyond me, and far from anything I could put into prose. I apologize because this writing cannot do real justice to what I experienced. I imagine it is like a letter from a relative in a foreign country that you have never seen trying to describe the landscape. From the first interview with Alyse Nelson Bloom and Maria Pacheco I knew why I was here. These were amazing people that immediately pulled apart my flesh and bones and grasped my heart with their humility and kindness. At the Capitol building, we met Congressman Dreier who invited us into the Rules Committee. Once there, Congressman Hastings who sat on the committee was one of the most special people I have ever met. While we watched the Rules Committee debate, at times he was looking directly at me and we were visually interacting as the hearing went on. He was engaging with me across the room and without him even saying one word, the connection I felt was indescribable. He and all the other Members of the Committee, in the midst of a very vigorous debate would also employ humor as a way of defusing things, and I was finding myself in constant anticipation for every word that came out of their mouths. After the hearing, Congresswomen Slaughter, the Chairwoman invited us into her office and showed us, the students, a respect and hospitality that was truly surprising. Then on Thursday, Admiral Rochon, the Director of the Executive Residence of the White House spent far more time with us that I could have ever dreamed possible.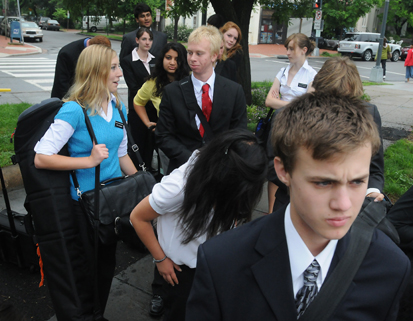 The most amazing thing that truly touched my heart was that all of them said they were honored to be with us. They said THEY were HONORED! Congresswomen Slaughter looked into my eyes and told me that we are the future and she wants to do anything she can to care for and help us. What can you say to that? What can you say to these people? Congressman Farr said something I probably will never forget. He said something along the lines that you see these passionate people in Iraq or wherever that believe so strongly in their cause that they are willing to kill themselves with bombs to do what they believe is right. They are so, so passionate. Well, these public servants feel this same passion but instead of using bombs, they use political debate and the ballot box to wage their war for what they believe in. These people care deeply about their causes, and to see this directly and to shake their hands and look them in their eyes, and for them to say, "God bless you. Thank you for coming to see me," there is nothing that describes how that makes me feel. These people have affected all of me; mind, body and heart. They have impacted me with their respect, care and love. They love what they do and they love people and being with them. That comes through in a way that I never could have imagined.
-Naveen Hattis
Hillary Campaign Headquarters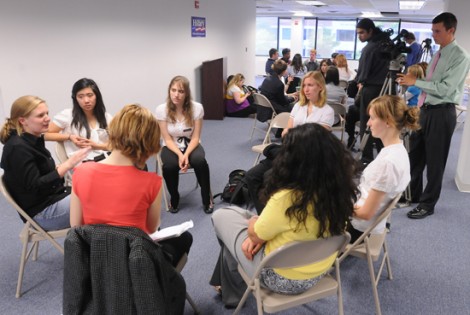 Hillary Clinton's Campaign Headquarters is run by a youthful passion. Getting off the subway at the Ballston- MU station, we found ourselves in front of a deserted looking building, but when we opened the door, we were greeted by a friendly looking receptionist and walls covered with enthusiastic letters to Hillary Clinton from elementary school children. Corley Kenna, Deputy Directory of Research, came to welcome us. She invited us on a tour of Clinton's presidential campaign headquarters. The campaign headquarters looked like nothing more than a mismatched collegiate building, but we could feel the energy and professionalism coming from the people working in every room. We noticed that the majority of people working on the campaign were young people. We continually received curious looks and questions as we made our way to the fourth floor where we met with Corley and her colleagues, Isaac and Caroline. Isaac is a spokesperson for the campaign and Caroline works in the press office.
After each had introduced themselves, we split off into three groups to have a closer conversation; we were in the gro up with Corley. She told us that her family had always been involved in politics, her parents volunteered for several campaigns. She developed an interest in politics and studied in History and Political Science in college. Right out of college, she was offered an internship with Congressman John Lewis from her home-state of Georgia. From there she found her way to the Hillary Campaign. Her passion for politics came from one of her family's "golden rules"; you're not okay unless your neighbor is okay, so take care of your neighbor.
Corley, Caroline, and Isaac at Clinton Headquarters
On this trip, we have been interviewing people high in their professional fields. In each interview, their advice to us has been the same, follow your passion and dreams, don't be afraid to fail, and if you try hard enough, you will succeed. Corley, Caroline, and Isaac embody this message. They are just starting beginning their political careers with a commitment to public service and a willingness to work hard for what they believe in. They helped us to realize that taking action isn't something we should strive to do in our futures, we can begin taking action NOW.
-Alexa, Joanna, and Patricia