We arrived in Johannesburg at 10 am after a day and a half of traveling. We were warmly welcomed at the airport by our friend and guide, Dawie Crous, who helped us get organized. Tension grew as we rushed to exchange money, sort the donation bags and look for misplaced equipment. Exhausted, hungry and irritable, we boarded the bus and headed to Maropeng. On this ride we got our first real look at South Africa.
At first, huge business buildings and towers consumed the landscape and the environment seemed similar to our own back home. As we drove further the buildings became sparser and soon were replaced by townships. Clusters of shacks lined the highway, and Dawie emphasized the differences between life in the city and life in the townships. I felt a twinge of guilt every time we passed a person sitting by their home or on the street. It appeared to me that they owned close to nothing. Two boys waved to us frantically as we passed them, as though it was the most exciting thing they'd seen all day.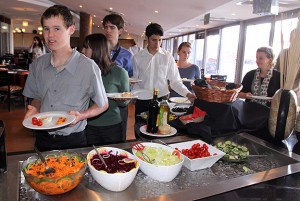 Dining in Maropeng
We soon passed the townships, and were able to take in the stunning scenery. We continuously snapped pictures whenever possible, desperately trying to preserve the beautiful images of the rolling hills, brilliant clouds and even a few giraffes! We arrived at Maropeng, and the landscape was breathtaking and looked like a postcard.
The ride to our first destination in Africa was a definite eye-opener; first world, third world and nature all coexisting. I can't wait to see more.
-Haley Turner
---
It was very appropriate to start our journey with the Cradle of Humankind. This is said to be where humans first started to walk the earth. I find it amazing that we all come from the same place. Even though our DNA is the same, we are so different from each other. I realized from the discussion with Dawie how much our culture has to do with who we are.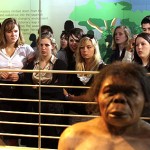 Cradle of Mankind
This tour made me reflect on racism in our world and how unnecessary it is. How can some people think that because someone is a different color and has a different culture they are somehow less than us, and treat them as if they are a different species. It is sad that some people believe that they are superior to others, even though we all come from the same ancestors at Maropeng in Africa.
-Brittany Lovato
---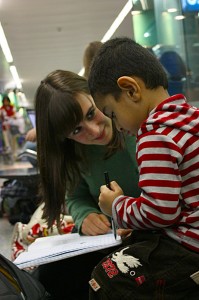 Leah Nascimento
I was very distracted on our 15 hour flight to Dubai. Even the countless movie options failed to keep my attention. Every once in awhile I would fall asleep, then wake up thinking that we were about to land, only to find that we still had many hours to go. It's amazing how far away we are from home.
It is currently 1:30 am in Dubai. Everything from the detailed marble floors to the elaborate architecture is grand. Each structure looks as though it came from the future; there are colored lights on everything. They catch your eye and make it hard to focus. Its almost eerie being in here, I've never felt this small before.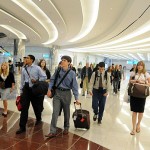 Walking through Dubai Airport
I have never been in such a quiet environment. The people here seem so conservative and reserved, with the exception of one who befriended me. While waiting in the airport an Arab toddler playfully snuck behind a tree near me and expressed interest in what I was doing. The few words he knew were in a language that I didn't understand which made it all the more interesting. He was the most enthusiastic boy I have ever met. I handed him the journal I was writing in and he reached out for my pen. He scribbled an abstract piece of art that will be with me for the rest of the trip.
An Arab Haiku

Palm trees, marbled floors
Buildings shine with gold décor
I want to see more
-Leah Nascimento
---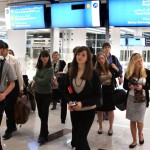 Arrival in Dubai 1
Dubai is a great launching point for our journey. It gives us our first taste of a foreign culture outside of the western world. The differences between Dubai and the United States are obvious. They range from signs in Arabic to more subtle differences such as the lack of trash and vandalism.
In addition to learning about different cultures, we are learning about each other. During our 15 hour plane ride we have found out how each of us operates. We have learned who is a sleeper and who is an insomniac. We are also learning valuable lessons like how to be up at 1:00 am alive and energized after only 3 hours of rest. This seems to be the final step in our preparation for Africa.
-Jack Massion
---
Dubai – A Haiku

Huge glitter columns
Not a piece of trash in sight
Dubai warms my heart
-Erin Mitchell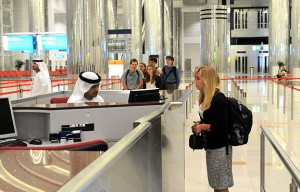 Arrival in Dubai 2