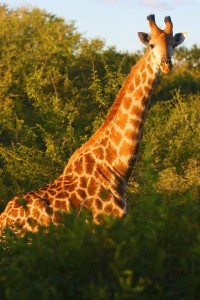 Giraffe in Kruger National Park
We are on the bus ready to get started on our final day of the safari. The previous day could not have gone smoother. We managed to come across the "big 5" all in one day. Dawie himself said that he has never seen them all in one day and was astonished by our luck. SN often says "The harder you work, the luckier you get." I feel we are all working fairly well and have dealt with the obstacles along the way in a sensible matter.
So far this trip I have really struggled to find the importance of half the things we have done. Of course I know it's important, but why? This morning's pep talk helped me get a better idea of what we are here for. We are finding the true meaning of Ubuntu, the principle that you are who you are because of others and your relationship with them.
Going through the last few days connecting with our environment made me realize that Ubuntu is not just about people, it is about connecting with the world as a whole. We are who we are because of plants, animals, people, and everything else around us. I came to that realization when Dawie explained how everything must be balanced in order to work and interact as a whole. We as a group must have perfect balance in order to work as one.
-Amar Nijor