If I were back in the U.S. today, Easter would have consisted of church in the morning, an Easter egg hunt and a party in the evening. In Africa our Easter celebration was a small egg hunt that Lisa organized. This Easter was not the traditional Easter that I am used to, but it was still a meaningful day for me.
We stepped onto the ferry at one o'clock and headed for Robben Island. I had an image of what I thought it would look like from a movie we watched in school called, "The Color of Freedom." When we arrived it looked exactly like I had imagined it. We all piled on a bus and went on a tour around the island. There are some places where the history is so vibrant you can feel it.
The tour guide had been imprisoned there and shared his story with us. Even though he had probably told this story more times than he could count, it was as fresh as if he were telling it for the first time. He told his story with so much sadness that it made people cry.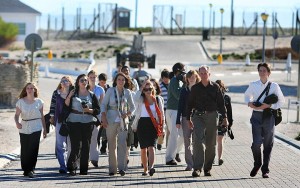 Robben Island
We were shown the quarry where the political leaders were forced to mine lime, with no eye protection, and many of them got snow blindness from the glare. There was a small cave in the quarry which served as their only bathroom, as well as their meeting place. The reason they could use it without being disturbed was that under Apartheid law, the white guards were not allowed into the cave, which was considered a non-white bathroom. The prisoners used this to their advantage. They educated one another in that cave. Those that had entered prison illiterate emerged able to read and write. They had a phrase that said "Each one Teach one." The guide said that the mistake that the Apartheid government made was putting all of their political prisoners in one place, and giving them a place to meet.
For the tour of the actual prison, our guide was another ex-prisoner named Sparks. He spoke slowly, in a way that seemed almost completely detached as he told us about the place where he and his fellow prisoners were kept. Hs manner of speech took some of the horror of the place out of it for me. Thinking about it now though, I wonder if this detached manner is the only way for him to deal with the horror that the place holds for him. As I walked down the rows of small solitary cells of the Robben Island prison, past the cell where Mandela spent part of his 27 years in prison, the sadness and terror seemed to still be alive. Reflecting on the experience, does this detachment hold more horror in it than any emotion he could have shown?
Today was important to me because the people we encountered had suffered so much but did not seem to be angry. This is a contrast from many people I know in the U.S. who have so much, yet are filled with anger and discontent. Sedick did not seem resentful toward those who had imprisoned him. He has chosen to focus his energy on educating people. It seems that most of the people I have met in South Africa are passionate about education.
-Sara Birns, Brittany Lovato, Cliff Randolf, & Anneka Lettunich
---
Additional Photos: