Today was an amazing day. Today was the day we have been waiting for since October: our interview with Archbishop Desmond Tutu.
We started off our day bright and early with a 7:15 AM church service. It was interesting to see Archbishop Tutu in action. There was a small group of people, besides us, and the Archbishop made us feel welcomed. Midway through the service everyone, our group included, took part in a traditional greeting and peace offering. We walked around the room, shaking hands and saying, "Peace be with you."
After the service we returned to our hotel, had a delicious breakfast and did some final interview preparation. Then, we headed off in our bus for the event that we have all been eagerly awaiting.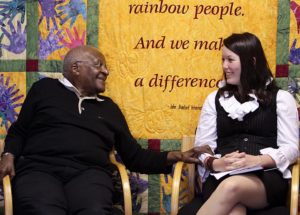 When Archbishop Tutu arrived we gathered around him in a small office. He was full of energy and had a bubbly attitude. With each question we asked, we gained more and more insight into this influential and powerful man. It was clear how strong his faith is in the goodness of people and in God. Archbishop Tutu kept the interview lively with his clever jokes and funny movements and sounds. When the interview was done we sang South Africa's national anthem for him. He was truly impressed and happy that we took the time to learn a song from his culture.
Coming out of the interview I felt good about all of the things we have done on this trip; the people we have met and the people we have helped. Also I felt relieved that the interview went smoothly and I was thankful for the great advice we received. This trip has been worth all of the hard work that went into preparing for it. We have one more full day here. I can't wait to see what is in store.
-Trevor Forry
---
Today was the first time that the junior class had a formal interview. We have been preparing for the last three days. SN told us from the beginning that the interview would only be a sure thing when we were in the room with Archbishop Desmond Tutu. When we arrived at his office he was not there. We waited outside for a few minutes and then to our great joy we saw him walking up the stairs toward us.
As soon as I saw him my nervousness went away. He was easy to talk to because he was cheerful and playful. Of course, I immediately became nervous again when we all sat down in the room. My favorite part of the interview was when we asked the Archbishop for some words of advice. He said that we are the future and therefore need to dream big and go after what we believe in.
-Brittany Lovato
---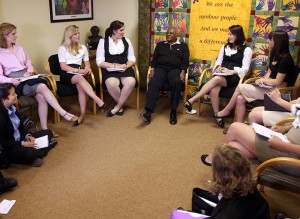 Students interviewing Archbishop Desmond
Our interview with Archbishop Tutu went by in a whirl. I asked him, "How did you develop such a deep faith in humankind and have you ever doubted it?"
He began his answer with a story about the Truth and Reconciliation Commission. When he was done he explained that he has such faith in humankind because humans, by their very nature, are good. If they were not they would not be bothered by the suffering of others. At the end of his answer he looked over at me, touched my arm, smiled, winked and giggled. I could not believe that Archbishop Tutu gave me a special touch and look to make sure that he had answered my question completely. I was so moved. Words cannot begin to express how great I was feeling. What an experience. What a trip. What an interview.
-Mara Getz
---
After our interview with Desmond Tutu we drove to Fezeka, a school in Gutuli. We were greeted with warmth and compassion as we walked through the school. Upon entering the classroom we met a high school English teacher, a Canadian who has been volunteering at Fezeka for the last two years.
When the students entered the classroom we were divided into small groups. While in groups we discovered the similarities between our cultures and dreams. Through these discussions we found a common interest in singing. Our class decided to sing the South African national anthem, a song we had learned on our many long bus rides. The students found so much joy in our singing that their faces filled with happiness. Afterwards, the students sang a traditional tribal song. Their passion and love for music was apparent and inspiring. While they sang, certain students entered the circle and began to dance. Their enthusiasm and intensity was so inspiring that we decided to join them in the center of the circle. When the singing and dancing concluded we said our farewells and exchanged contact information.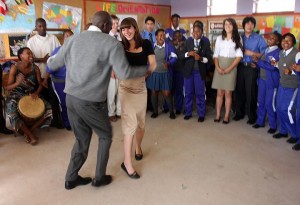 Leah Nascimento dances with a Fezeka student
What I experienced at Fezeka reminded me how simple happiness can be. The willingness of the students to open up and share with us created a joyous and festive environment.
-Max Connor
---
Additional Photos: