Interview with Alyse Nelson
Co-Founder and CEO of Vital Voices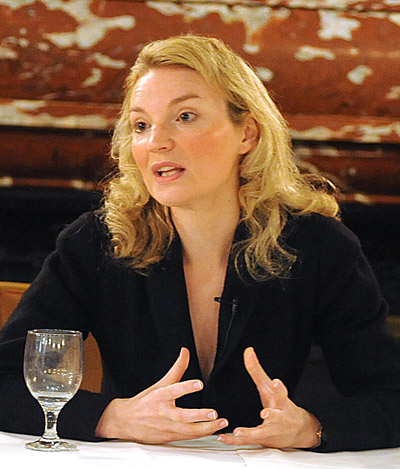 We could not have picked a better person than Alyse Nelson to start off our interview experience in Washington DC. After hearing about Alyse, I expected someone very different than the elegant, blonde woman who walked through the doors of the Cosmos Club. You could tell right away that she had confidence in herself and in the work she does.
Her words about leadership touched me more than anything else in the interview. Alyse described a leader as a person who seeks power to give power to others, and said that good leaders are the world's greatest untapped potential. She told us stories of women all over the world who demonstrated this kind of leadership and who had an impact on their communities. These stories made me think about my potential. If women who have absolutely nothing except their hope for a better future can do something empowering and proactive in their community, then I most certainly can too.
-Mari Fox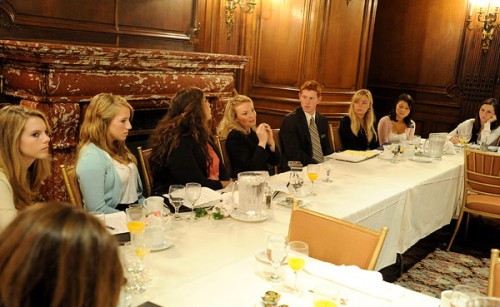 I have never in my life heard and seen someone speak with such passion as Alyse Nelson. I watched with awe as she recalled her experiences and spoke of her career and life with such determination. It was easy to see that she truly loves what she does. As she recounted her experiences, you could feel the wonder increasing in the room, causing people to be drawn into what she was saying.
She told a story. It was a story about a shelter for young girls that had been victims of trafficking that she visited in Cambodia. She told how all eighty girls listened as one among them stood up and told her story. She told how they all began to cry. But despite the sadness and cruelty that had plagued much of their lives, she told of the courage and determination they carry with them now. Merely hearing the story secondhand through Alyse's narrative struck me profoundly. I looked around the room and found expressions that I assumed mirrored my own. The emotions of awe, wonder, and insight were reflected in the countenances of many of the girls in my class. We are all girls, so privileged and lucky to lead the lives we have. We were now struck by the profundity of what we were hearing about what is happening to women around the world. Given Alyse's concrete recollections, we began to realize on a personal level the true impact of these stories. When each of us had the opportunity to articulate what had caught our attention us during the interview, our responses reflected many of these sentiments. Tears filled the eyes of girls around the room, and I was surprised to find even my own vision become blurry.
It takes a certain level of power and voice to have such an immediate effect on a group of girls. Alyse both emphasized and embodied these two qualities. I already feel convinced of the importance of my own role and voice on a broader scale. As I went to write a note on Alyse's closing remarks, my hand was unsteady as I wrote, experiencing a moment of wonder I had not expected.
-Emma Fladeboe
---

We just got back from our interview with Alyse Nelson. It was one of the most inspiring and touching experiences of my life. She was an amazing woman who has seen and experienced so much in her life. She is the Co-Founder and CEO of Vital Voices, an organization that empowers women. She said many things that struck me.
She touched on many different things, but she always seemed to come back to leadership. She said, "Leaders are the greatest untapped potential of the world, you just have to find and unleash them." I felt that this quote was empowering and resonated with me.
She talked a lot about leadership. She said that leadership wasn't just about power. She said that there are three aspects of leadership: (1) There is no one path to leadership, (2) True leaders stand apart, not alone, and (3) All leaders have mentors, and some have many. The part about leaders standing apart and not alone was amazing. I thought, "Wow. That is one of the greatest quotes I have ever heard."
Her parting advice was, "Be a sponge, take it all in… Keep a notebook for everything… Don't worry about finding your path and follow your passion."
-Dani Quinn
---
Interview with Layli Miller-Muro
Founder and President of Tahirih Justice Center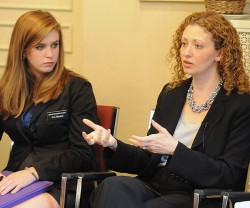 When my sister came home from her Washington D.C. trip two years ago, she immediately told me about Layli Miller-Muro. She spoke of the Tahirih Justice Center and the women that the center helped. This made me want to meet her and learn more about the work she was doing. I read many stories of Tahirih's clients and I could not understand how any human being could treat another with such brutality. I was inspired by the work Tahirih was doing and from that moment on I knew that wanted to help people who needed it.

Today I was excited to finally meet the person who had inspired me to get involved in community service. When Lily asked, "How do you manage to deal with all of the situations of hardship and abuse without becoming emotionally drained or desensitized?" Layli Miller-Muro gave an inspiring answer. She said that she does not become numb or emotionally drained because she finds hope in her work. In reference to her work she said, "We are like raindrops in a puddle and that puddle becomes the ocean that is going to change the world." This statement helped me to understand that it's the small things that count.
-Soma Sharan
---

Our second interview was with Layli Miller-Muro, the founder of the Tahirih Justice Center. The Tahirih Justice Center's mission is to protect immigrant women and girls fleeing gender-based violence. I thought the interview went well. I found it interesting to hear Layli Miller-Muro's perspective since her work is similar to Alyse Nelson's work.
One thing that I found interesting in both interviews was the idea of the necessity of fear and the danger of comfort. Both Alyse and Layli said that having fears and being out of your comfort zone is good because it challenges you to take risks. Layli Miller-Muro was very strong in her thoughts about failure. She said, "FAIL! You learn from failing, fail over and over again." Both interviews were surprising and I look forward to our interview tomorrow with Betty Hudson.
-James Clifton
---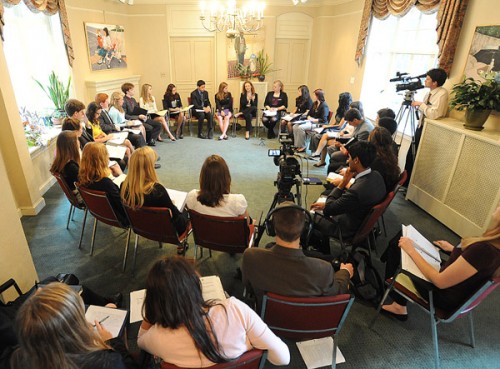 Layli Miller-Muro said, "I think there is something horribly wrong in a comfortable world". I believe that is a quintessential part of this trip. SN always tells us, "This trip is not about your comfort." Waking up at 6:00 is definitely not comfortable.
The interviews we get to have here in Washington D.C. are worth losing a little comfort over. We have been given a chance to interview some very powerful people and I am grateful for that. That is why I felt incredibly proud and honored when Layli Miller-Muro, after a scheduling mishap, went out of her way to come to see us. The idea that our time was just as important as hers bolstered my confidence
I now want to put the idea of carpe diem into action. We have over the years attracted the focus of a lot of powerful people in D.C. I feel it is my duty to use this focus to my benefit.
-Jack Massion
---

When Layli Miller-Muro walked into the room I didn't know what to expect. She was both similar and different from Alyse Nelson. It felt like she opened up to us and I appreciated that. I liked it when she said, "If you haven't failed before, go fail." It was funny to hear that because I never thought I would hear that from someone so successful.
-Michaela Schuessler