Yesterday we got a glimpse of two sides of the Indian education system. After enjoying a delicious Indian breakfast at The Heritage School's beautiful retreat center, we attended the Founder's Day celebration at the school. The Heritage School is an innovative private school which enrolls over 1200 students, preschool through 12th grade. Like Mount Madonna School, Heritage focuses not only on grades and test scores but on developing engaged, discerning individuals.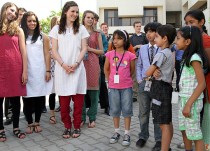 The Founder's day assembly featured music and dance performances by the school's lower grades. It reminded me of Mount Madonna school's Cultural Awareness presentations. After the show we met with members of the school's Junior and Senior classes to discuss the role of ethics in education. We spent upwards of a hour on this subject. After our discussion we spent time teaching the students how to play "Ninja" and then we were off to Pathways World School.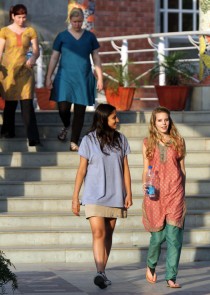 On the incredibly bumpy drive to the school we were able to see some of rural India. As we emerged from around a bend we caught our first glimpse of Pathways World School. It was beautiful. The campus was centered around a massive fountain and amphitheater. Many of the walkways and columns were intricately decorated with mosaic patterns.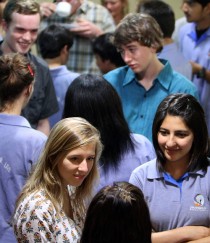 During our stay we had the chance to chat with some of the Pathways students and they took us on a student guided tour. Even though we are literally half the world apart, every Mount Madonna student made strong connections with Pathways students. The similarities we had with them were unexpected and sometimes staggering. Our interactions came to a close with the frantic ending of conversations and a flurry of pen and paper, as all attempted to write down the names of the friends they had made. We promised to stay in touch through email or via Facebook.
Noah Limbach and Kevin Koda