When we arrived at Sri Ram Ashram I was super excited. I had heard so much about the school and now I was finally going to see it for myself. Walking out of the bus, I felt joy rush over me. When I saw the babies they took my breath away.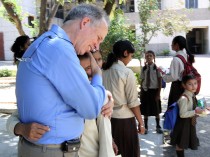 They were so adorable and happy.
Everyone welcomed us with open arms and was excited to see us. What surprised me the most was that the kids were willing to tell us about themselves and allow us to be part of their lives. I immediately felt like a part of the Sri Ram Ashram family.
Michaela Schuessler