Ashram Day! Today we got up at 4:30 A.M. to pack and get ready to go to Sri Ram Ashram. We were all excited to meet and play with the kids. We were also looking forward to seeing where Soma grew up.
We left the YWCA in New Delhi at 6:00 A.M. and headed for the bustling train station. The train ride to Haridwar takes five hours. While on the train it was amazing to see the villages, huts, people, and animals. It was also incredible to see how much trash littered the countryside. It was an eye opening experience. I saw a thriving culture and the beautiful aspects of what rural life has to offer, as well as the impoverished side.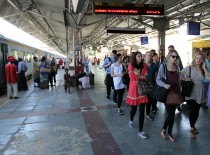 We got off the train in Haridwar and drove twenty minutes by bus to the Sri Ram Ashram. Once there, we were greeted by the little ones and some of the older girls (everyone else was in school still.) The little girls were adorable. They melted my heart. I am excited to spend the next three days here and to get to know all of the kids.
Dani Quinn