We are halfway through our trip and I can still remember every second of each day. Our day in Old Delhi is just as fresh as our experience at Hari ki Pari last night. In Hari ki Pari a ceremony occurs called Aarti in which people give offerings to the river Ganga. Seeing Aarti yesterday was amazing. It seemed more like an annual event and I find the fact that it occurs nightly unbelievable.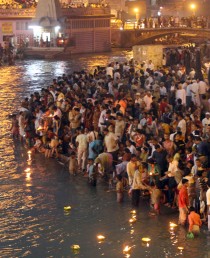 We got to stand on a bridge overlooking a portion of the Ganga. Below us, 10,000 people stood in prayer. The dedication and intensity that I saw on their faces is my new definition of faith.
The fact that everyone comes together each night and makes offerings and prayers to the holy river says so much about the people. Aarti at Hari ki Pari was unlike anything I have ever experienced, seen, or felt elsewhere. I am still in awe and look forward to what the rest of the trip has to offer.
James Clifton