I find there is an almost amusing dynamic to our class, which has become especially conspicuous to me during this trip. Being the small and relatively close-knit group that we are, we often get frustrated with each other's shortcomings. We, in turn, become relentless in provoking each person's respective annoyances, whether it being too bossy, being a downer, over questioning of others involvement, not participating, or complaining. We reach breaking points where we divide and tell ourselves we can't take it anymore.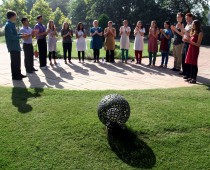 But then, something both amusing (as I said before) and strange happens. We have a great interview, or a meaningful conversation with the students at the Heritage school, a dance party at the Ashram, or a sad goodbye with kids we have become attached to, and it's like it never happened. There is a subconscious decision within each of us to let it go, to overlook it for the greater whole, to set it aside for the purpose of what really makes us friends. Whether it's a voluntary or inherent choice, our class has this unmistakable and valuable tendency to accept each other's faults in these trying situations.
This is what really makes us a community. Not because we all go to school at Mount Madonna, not because we're all seniors, not because we all go on trips together. We are a community because we have developed the practice of forgiveness for the sake of progress and relationship.
Emma Fladeboe