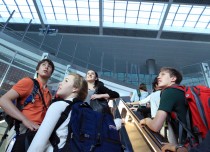 Dubai can only be described in a few words… balmy, wealth and for our group a much needed 8 hours of sleep. When we landed in Dubai the weather was the first thing that made an impression on us. Outside a thick haze obscured the entire city but what we really felt was the temperature of 95 degrees at 8 P.M. Each transition, from air conditioning to the outside, was like hitting a solid wall. When we were outside the air was so humid it felt like breathing soup.
The group is working well together and while having fun, we are keeping organized and on task. We have another 9 hour flight ahead of us but we are all excited about arriving in South Africa.
David Broz
---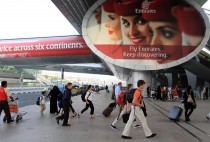 We took a step outside the Dubai Airport and immediately we felt the humidity swarm around us. You could feel the presence of a new culture. On the drive to our hotel we passed fake canyons with waterfalls and palm trees. Everything seemed themed and every detail was planned to perfection.
At the airport it was striking to see a family with a woman, a man and three children: a daughter and two sons. The woman was covered head to toe in black and the daughter was wearing a long sleeve shirt and a long dress with socks. The two sons on the other hand were wearing shorts and short sleeve shirts. It was 95 degrees Fahrenheit yet the woman and daughter were expected to stay covered. I am grateful that in the United States women are able to choose how we dress. Just being able to dress the way I want is something I never really thought about. Thinking about women's issues got me excited for the Pregs Govender interview on Wednesday. Pregs Govinder is a feminist activist who knew at a very young age that she wanted to fight for women's rights. Our interview with her is one of the parts of the trip that I am looking forward to the most.
Palak Bhatnagar
---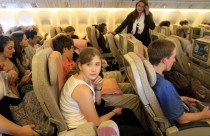 Knowing little about South Africa, I had no idea what to expect when I boarded the packed to capacity plane on Saturday. Time flew by at the beginning of the flight but later in the day the clock seemed to stand still. When we were flying over the North Pole I found myself going in and out of consciousness while playing in-flight Tetris. I was having a Tetris battle with Lisa and I worked hard to beat her high score while she was sleeping. We landed in Dubai before Lisa had a chance to regain her lead!
The Dubai airport was completely abandoned but felt full at the same time. Instead of looking at people walk by, you could look at the beautiful architecture within the airport. The inside and out was clearly built to entertain and impress. Dubai was a different experience for me, not only because of the obvious culture differences but mostly because the "locals" I saw seemed to have great respect for their religion. This manifested in a few different ways. For example there were prayer rooms in both the hotel and the airport.
Although we were only in Dubai for a night, our time there touched me and will have a lasting impression.
Kellyn Cardinal