As we anxiously stepped away from a closed museum we had planned to visit, we were in desperate need of a bathroom. Touring the streets of Soweto with Trevor Tutu, the museum was our last option. As we started to walk, I heard the sound of a violin. I thought I was going crazy. Since I've been playing the violin since I was 6, I assumed it was in my head. Then all of a sudden, Ward ran up to me and said jokingly, "There's a violin school, you should play for them so we can use their bathroom!"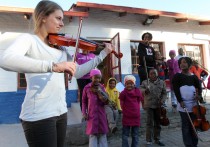 Before I knew it, I was in front of a group of small children and teens with a violin in my hands and a lot of eyes on me. I suddenly blanked on every song I have ever learned and hearing my class yell at me to, "just do it," didn't exactly help. I looked up and saw a small girl, about 5 years old, with a tiny violin in her hand, eagerly staring at me. Seeing her made me think about when I learned my first fiddle song and how different it was from the classical music I had had to learn. I put the violin in place, set the bow, and played an upbeat, fiddle song. As soon as I started to play, I saw the faces of the young boys and girls; their expressions were priceless. The shock and joyous smiles on their faces brought me back to when I first started playing and how the older musicians amazed me.
After I played I talked to some of the music students. I could see that they enjoyed what they were doing and were excited to continue. The woman who taught the lessons told me that they were part of a strings program created to give children who wouldn't usually be able to afford music lessons the opportunity to play. Hearing this made me happy because music is such a good way to express one's self or escape from reality for awhile. It made me feel good to know that children who are less fortunate than I am could have this experience.
Before we left, the woman came up to me and said, "Thank you for playing today, you really inspired them." Hearing this warmed my heart and motivated me to continue to work hard, as I know they will.