Today we had one of the many unique opportunities that this trip presents. Earlier in the week one of Ward's friends, Charles Holmes, arranged an introduction to his friend Bob Elton. Bob Elton has served as the president and CEO of BC Hydro, a large Canadian power company. He currently teaches at a university and supervises countless energy and social boards.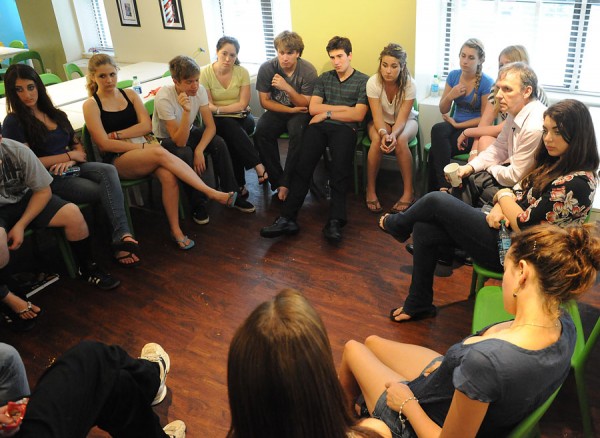 Ward arranged for Bob Elton to join us for our morning interview with Susannah Shakow. After our interview, he walked back with us to the hostel. He ate lunch with us and we spoke about a variety of things. He told me about the many different things he balanced when he was in charge of BC Hydro. I learned that he was an English major at Cambridge. He told me that he loves books and that whenever he is stressed he goes home and reads. He talked about how studying English has made him a much clearer thinker. He talked about how reading Tolstoy has made him feel that he understands people better because Tolstoy had such an amazing understanding of human nature. Bob said that for him reading is meditative, thought enriching and a pleasurable process. I love meeting people who love books as much as I do.
After lunch we circled up the green chairs in the hostel dining room and began a group conversation with Bob. He was awesome. He was genuinely interested in talking to us. He seemed to care about our program and what each of us thought the purpose of our trip was. He was very insightful about our group dynamic, even though we were only with him for a couple of hours. We talked to him about the competition that is part of our group dynamic and he asked us if there was any external reward for competing with each other. We all said no, which made the internal competitions in the group seem silly. This led us to an interesting conversation about the nature of competition and how it can sometimes drive us to better ends and help us continue to push the envelope. We also talked about how at times it can bring out the worst in us. We didn't end up interviewing Bob Elton; he ended up interviewing us.