In the Capitol Gallery, while watching the voting process, we spotted Congressman John Lewis. Since we had missed the opportunity to interview him the previous day, we made it a priority to talk to him on the Capitol steps.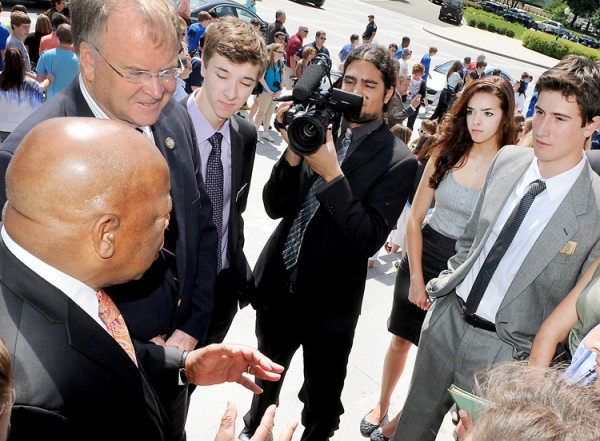 He told us about his involvement with the Freedom Riders alongside Martin Luther King Jr. However, the part of the conversation that touched me the most was about an event in his life that took place many years later. He described, to our captivated group, how a man who had beaten him and his fellow protesters came to apologize to him. Congressman Lewis forgave the man and they parted, now seeing each other as human beings rather than victim and perpetrator. Such a profound mixture of suffering, life experience, and forgiveness is a rare and ultimately valuable quality in someone who helps lead the nation.
Congressman Lewis is such an inspiring and ultimately amazing leader and human being that those who hear his stories can't help but be captivated. He gave us a personal perspective on this era of painful change in America that nobody can get from the pages of a textbook or the images in a film or a photograph. His continued passion for positive change and forgiveness keeps him motivated to fight new issues of injustice that America faces.
---

Today I learned three important things from three inspiring men. I met an iconic figure of the Civil Rights Movement on the Capitol steps, a man whose ancestors were enslaved by the very men who built our nation's capital. This was John Lewis. I also spoke with a Congressman from Massachusetts who knew his mission and was going to fight for it even if it would take the rest of his life. His name was Ed Markey. I was touched by advice from the man who has been my representative since I was born in 1994. This was Sam Farr.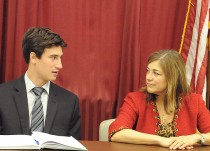 This morning we were scheduled to meet with Congressman Sam Farr at 9:30 but a series of amendments were put up for vote and he had to be present on the House floor. This drastically changed our morning. Instead of the planned half hour interviews with Congressman Sam Farr and Congressman Ed Markey we were told we would have about 15 minutes with each of them.
After the votes were cast, the Representatives exited the House and we waited on the steps to meet up with Congressman Farr. While waiting for him, I spotted Congressman John Lewis. John Lewis is the last living person to have given a speech at the March on the White House. He was the president of the SNCC and one of the major leaders of the Civil Rights Movement. We were scheduled to have had an interview with Congressman John Lewis on Thursday, but he had to give a speech so it was cancelled. I would have been happy to have had the chance to shake his hand and get a picture with him on the steps, but I got more than I could have asked for.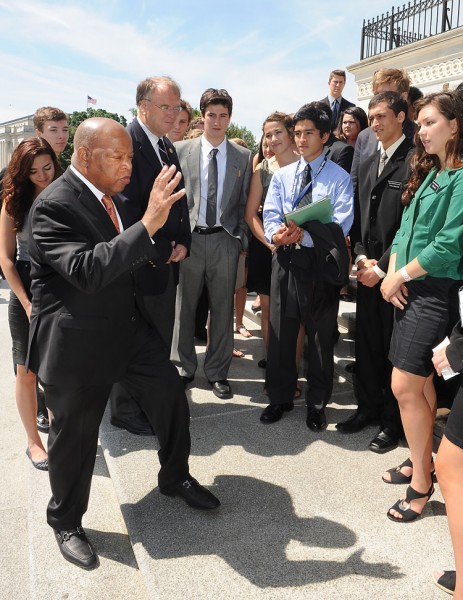 While taking our picture with Congressman John Lewis, Congressman Farr walked out of the House of Representatives and came up to our circle. He prompted Congressman Lewis to tell us a story about a man who had beaten him while he was attempting to sit-in at a "whites" only restaurant. Years later the man, at the urging of his son, came to Washington DC to apologize to Congressman Lewis. The man's son came with him. Representative Lewis told us that the three of them hugged each other and cried. Congressman Lewis was clearly emotional about this. I could see that the dream he had as a young man had come so far and he knew it. I know why Congressman Lewis believes in nonviolence and treating everyone with compassion. Because of compassion, a man who had once been so angry that he beat Congressman Lewis, felt that the right thing to do was apologize and embrace Congressman Lewis as a brother. I learned from Congressman Lewis that love and compassion are not conditional. They are for your enemies and your friends alike and if you practice compassion it doesn't just give you moral high ground, it works. People have a hard time hating you if you love them.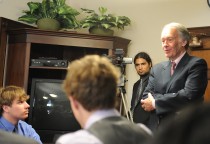 After our time speaking with Congressman Lewis on the Steps, we spoke with Congressman Ed Markey for about 15 minutes. One thing he said that I loved was, "Liberals are almost always right, they are just right before everyone else sees that they are right." He has been in office since 1976 and said that when he began his career he had the goal of providing people with education, healthcare and environmental protection. He said that many of the things he had talked about when he began his career are now part of the American political dialogue. He said he had always believed gays should be able to get married, but when he began his career people considered that a far left position. Now people are much more willing to talk about gay marriage and most young people believe in gay rights. Congressman Markey made the point that people progress slower than we want them too and if more people were willing to step up and do something, more things would happen. He encouraged us to join the government or start an NGO in order to affect change, rather than just complain. He reminded us that we are some of the most privileged people to have ever lived and we owe it to the world to serve in some way.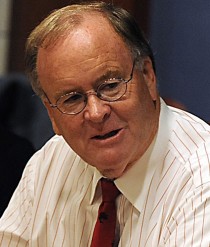 Last but not least, we got to interview Congressman Sam Farr. He has helped Mount Madonna School get the majority of our congressional interviews for a number of years. He truly believes in the Values In World Thought program. Congressman Farr is an inspiration to me. Regardless of if you agree with him politically or not, he is passionate about being a public servant rather than a politician. He fights for what he believes in and is highly regarded by individuals in Congress on both sides of the aisle.
In preparation for our interview with him, I watched a speech he gave this week arguing against the reauthorization of the Violence Against Women Act. I was moved by what Congressman Farr said and I am proud to say he is my Representative. He cares for his constituents, and to me represents what a politician can aspire to be; a public servant. I am grateful to Congressman Farr for providing us with many of the opportunities we have had on this trip.