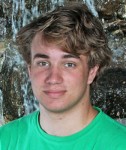 At the end of each month, the Sri Ram Ashram family has one big party to celebrate all of the month's birthdays. We were at the ashram for a more pumped up version of the normal birthday party. The celebration also doubled as a going away party for several ashram kids leaving for college.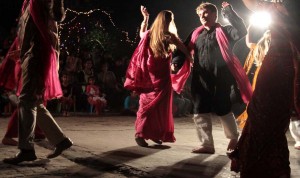 I have heard a lot about the ashram's ability to welcome others. These rumors were confirmed for me last night. When I went to go sit with my class for the celebration, I was instead directed to go sit with the other birthday honorees. My birthday was on March 27th . I was lucky to be able to celebrate it with my class in India, however that was three days ago and I had already forgotten about it. The people at the ashram didn't care that I had already celebrated my birthday. I had a March birthday, and I was part of the community, so I was asked to sit down next to Deepak and Vijay Raj.
The celebration was only one-seventeenth mine, but even that fraction of the singing, dancing, and general celebration was more than double any other birthday party I have had. I think one would be hard pressed to have found a better group to celebrate my eighteenth birthday with.
---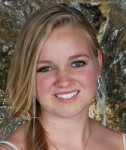 As the bright, multicolored lights went up around the courtyard and the girls changed from casual cotton to embroidered saris, the atmosphere changed to one of nervous excitement. A dance party/birthday party at the Sri Ram Ashram was about to ensue. The children were to perform 10 dances for us. We were to perform 3 songs and a dance for them and then we were going to finish the night off with a huge dance party.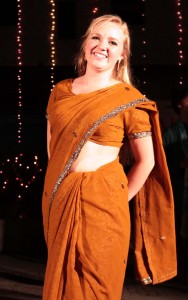 Just as we feared, the children's talents put us to shame. They started off the night with an incredibly precise and visually interesting duet dedicated to Ganesh. They demonstrated their talents in hip-hop, traditional Indian dance, jazz, and lyrical with incredible diversity as a group, as well as within each individual dancer. Our songs, even when slightly off, were met with great applause and support. However, nothing could prepare us for the delight they took in watching us perform our imperfect, learned in two days, Bollywood number. As we took our places our names were shouted and hoots, hollers, and whistles filled the air. We miraculously made it through our dance with few mistakes. It was met with huge booming cheers. I have been performing for over 7 years and have never had such an incredible audience. Then, to the dismay of my classmates, the entirety of the ashram and the volunteers began to chant, "Once more! Once more!" We could not resist the demand for an encore performance. This time however the staff and volunteers joined us.
After the speeches and thank yous had been made, we had a giant dance party. It was one of the best times I have ever had. Everyone danced; the youngsters, the teachers, the students, the boys, the girls, even Devin. For over an hour, somehow, the cultural differences blended together in a perfect mix of character, personality, self-expression, and pure enjoyment. I have always thought that music and art are the most powerful ways to bridge differences. In that courtyard we were just people; fun loving, joyous, laughing people.