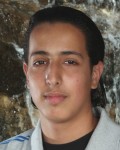 When I first spoke to Julius he was sitting alone on a bench, eating his oatmeal, isolated from everybody else. I decided to walk up to him, sit down and say, "Hi Julius." Julius was our bus driver and he became a very dear friend. Yesterday he told us, "Most of the time people treat us as if we are invisible…you guys have really touched my heart".
People like our bus drivers and cooks are the type of people who are often overlooked. They deserve much more credit than they're given. I'm really proud of my class for giving these people the respect they deserve and making sure that our group is remembered fondly.
Unfortunately, before our trip to Swaziland, Julius started to feel unwell and was not able to accompany us. We said our goodbyes in Soweto and told him we would stay in touch. He assured us that he would be fine and told us not to worry. We miss him immensely and hope he makes a speedy recovery.