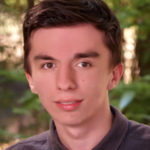 After a morning of preparing for our future interviews, we got dressed, and headed down the street from our hostel. In a chaotic mess, our group of 33 people boarded the Metro and headed south towards the Smithsonian Institution and National Mall. It wasn't long before we noticed the iconic Washington Monument towering over the National Mall, and directly to the left stood the seat of the United States Congress, known as the Capitol Building. Seeing both of these monuments was a surreal moment. In a short amount of time I was able to remember so many important moments and important people involved with the buildings. From visualizing Martin Luther King Jr.'s "I Have a Dream" speech, right in front of the Washington Monument, to the fact that our entire country is run from inside of the Capitol Building.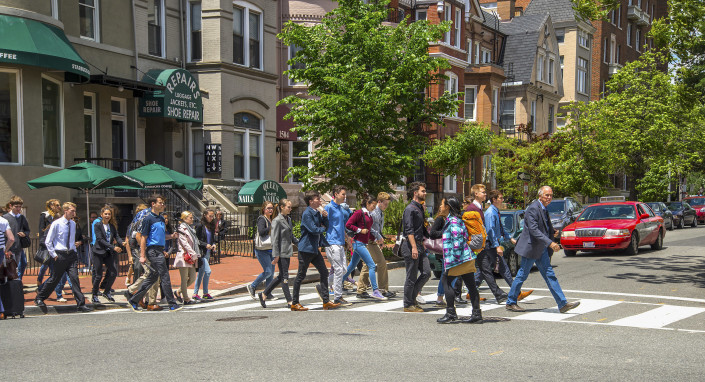 We reached a map of the Smithsonian. Ward gave us the option to split off into groups and go enjoy whatever we wanted to enjoy within two hours. I went to the National Air and Space Museum, where I got to see lots of revolutionary and important pieces of aerospace engineering. This was cool to me, but I have been in a lot more science museums than I have art museums, so I heavily anticipated checking out the National Gallery of Art. My expectations were met when I first entered the building. The exhibits were divided by various periods of art, making it very easy and interesting for me to learn about new artists and sculptors. One specific work of art that stood out to me was The Fall of Phaeton by Peter Paul Rubens. It sparked an interest in the Baroque period of art, and was one of the most complex paintings I've ever seen. Another incredible moment was being able to see Ginevra de' Benci by the incredibly influential Leonardo da Vinci. Seeing a piece by da Vinci was an experience I thought I could only run into if I was in Italy going out on my own to find his art. I hope that our schedule is free enough for the rest of this trip that we can find time to revisit the Smithsonian art gallery and continue looking at art from across the world.
---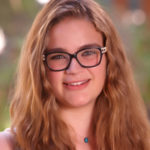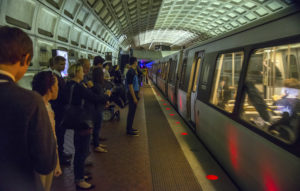 Today was our first full day in Washington, DC. It was amazing! This morning we woke up and had breakfast. There were bagels, scrambled eggs, cereal, and fruit. After breakfast a few of us had to clean up, but it wasn't too hard, except for the thick layer of scrambled eggs stuck to the pan.
While we cleaned, the rest of the group started working on interview questions for Monday. We joined shortly after to help with the brainstorming. I joined the group working on questions for Melanne Verveer. After working for a long time we had lunch.
After lunch we took the Metro to the Smithsonian. The Metro was surprisingly nice. I thought it was really fun to swipe our Metro cards and to stand in the Metro car. When we finally got to the Smithsonian, everyone split up in groups and went to the museums they wanted to go to. I went to the Natural History Museum with Bella, Cat, and Caroline. It was really cool! We saw an ocean exhibit, which I loved, and we also saw the mummies, dinosaurs, gemstones, and bugs. Somewhere along the way Cat and Bella joined different groups, so it ended up being just Caroline and I. We left the museum and went and got popcorn. It was really nice. We walked around and talked for the remainder of the time we had left.
Overall today was very informative. I learned plenty of new facts in the Natural History Museum and how to navigate the Metro system. DC is very different than I thought, but I like it more than I imagined.
---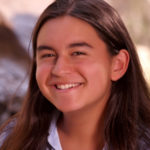 Today was amazing. We woke early and ate breakfast and lunch, got dressed up, and departed for the Smithsonian. Ward gave us the freedom to roam around the area and visit the numerous museums, like the National Museum of Natural History, Air and Space Museum, American History Museum, and many others. Wandering through the town of DC was incredible with the constant sound of street vendors and cars buzzing in my ears, looming buildings, intricate architecture, and A+ food.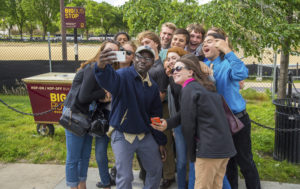 In the museums, my group saw majestic mammals, magical aquatic creatures, massive missiles, and mammoth aircrafts. The most memorable moment of today, though, happened after we came back from the Smithsonian and were all waiting around by the Metro. A man was singing "Stand By Me" near us on the sidewalk, and Param started mumbling the words distractedly. Then he perked up and said, "Hey, do you want to go sing with him?" Sophie and I instantly agreed, and we moseyed over to his spot and attempted to harmonize with him. Thankfully, he was happy to have us, and started to encourage us to sing solos and such. Super chill guy. Then Clio, Izzy, and almost the entire rest of our group joined in. The man was stoked and started to sing Bob Marley's "Don't Worry," a song I thankfully knew more words to than "Stand By Me." After we were finished, he introduced himself as Niyi Fote and told us he had auditioned for The Voice. It was such a spontaneously beautiful moment, and I was happy that we all banded together to do that. It was such a Mount Madonna thing to do.
---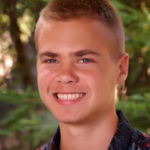 We stir and awake as the night stretches to meet the day. It is our first morning in the Pilgrimage, and we are all ready. We eat breakfast, prepare questions, and leave our sheltered den. The subway is next, and it is not a humid, cramped, and windy one like some, but a portal. Its gaping downward entrance slants ominously underground, the metal is studded to prevent people sliding down. Inside, it is a single perpetual arch, unnecessarily tall and amazingly ornate, an endless tunnel.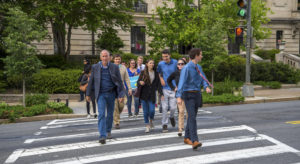 Our iron-clad chariot arrives and we are swept off to our destination, the Smithsonian. We split off into groups and Max, Miles, and I walk with purpose. It is foretold that J Dillas's producing equipment lies in the National Museum of African American History and Culture. Our quest starts and then ends; the museum is closed.
We see the Washington Monument and visit the Freer Museum of Art and the American Art Museum, where we see da Vinci's "Ginevra da Vinci" and "The Fall of Phaeton" by Peter Paul Rubens. We also see some very interesting Neo-Impressionist paintings and sculptures that seemed impossible to have crafted. The amount of sheer skill these artists all share is unbelievable to me as someone who uses slanted line eyebrows to show emotion on my stick figures. I could have spent all day looking at the art in these buildings that were art themselves, but alas it is 4:30pm, so we have to return. I hope we have time to complete our wanderings.
We then return to the Pilgrimage, our home, which I then realize is a museum of its own. Its history, its walls, its stains and blemishes, tell a story of their own. The poems on the wall, called "Pride," "Murder of a Dreamer," and "Alter Ego." Poems that are reflections about the truth of human nature and its depth. There are also ink paintings on the walls. One is called "Crime Scene," a piece depicting a businessman who is wrapped in a large dollar bill and blindfolded, surrounded by skeletal bodies similar to Gollum from Lord of The Rings. Another one is called "Shop Till You Drop," a piece reflecting on problems with consumerism. It depicts the same Gollum-like people, who are surrounded by chaos, with the words "shop till you drop" repeated in many of the things they are holding. It is a somber piece, but beautiful, and the message is clear.
Our home is a museum, and I could not be more happy.