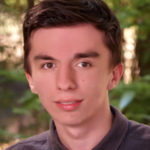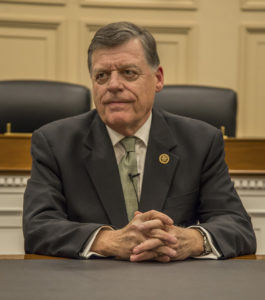 I had been looking forward to the Oklahoma Congressman Tom Cole interview since we first heard about it earlier in the semester. I felt like I have only been shown democratic points of view while living in California. I was very excited to finally be able to go to the center of the government, and see why the majority of congress is republican and why people stand where they stand. Another reason I was so excited was because Rep. Tom Cole was one of the only two Native Americans in the congress. I knew that Cole had a rich past of Native Chickasaw history behind him, and I was heavily anticipating him explaining how he represents the Native Americans in Oklahoma and the United States.
The room inside the Rayburn Building was hands down the most beautiful room we have interviewed anyone in on this trip. It had such an official and historic aesthetic to it, with the thick law books on the wall and the electronic voting system on the tables. This definitely appeared to be a room where a lot of things get done.
When Tom Cole entered the room and sat down, the first thing I noticed was the large turquoise ring on his right hand. All jewelry has a story behind it, and from that minute I knew I had to mention it after the interview ended.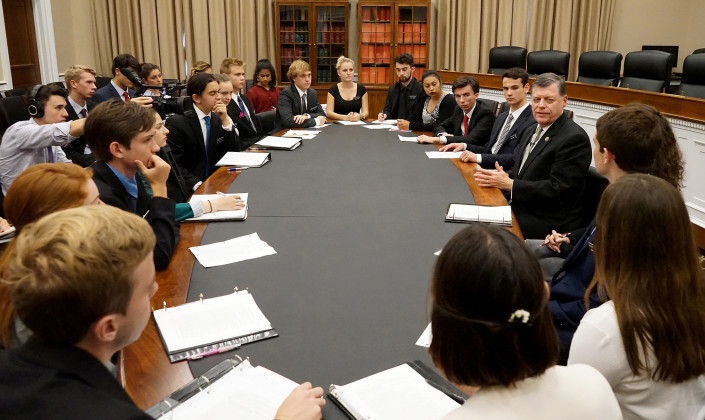 Questions about his political stance and Native American background were asked right off the bat. First he talked about his mother being an active member in the Republican Party. This was a really unique statement and story because a majority of the people we interviewed earlier in the trip became unexpectedly involved in politics. They didn't have as much of a political background and political influence as Tom Cole, who started out as a historian and helped his mother with her campaign.
Then we discussed the fact that the majority of congress is republican currently. He told us how because of the large amount of republican representatives, they are divided within themselves. That made a lot of sense to me when he said that, "Currently the most liberal republican is not as conservative as the most conservative democrat." He also stated that the Republican Party is less disciplined than it originally was when he first started working in congress.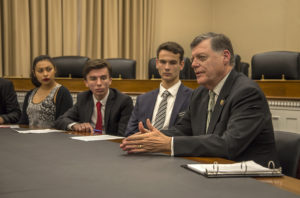 Tom Cole has been around many important people in his career. When Louis asked him who he is inspired by in the current political arena, I expected him to answer with some very important republican political figure, like Ronald Reagan. That's exactly who he mentioned. What I didn't see coming was how personal his relationship was with Reagan. He told us stories about talking on the phone with him and how much he looked up to him when he first entered politics. He also said he idolized people like Representative Sam Johnson from Texas, Representative John Lewis from Georgia (whom we unexpectedly ran into in front of Capitol Hill today and will interview next week), football player/politician J.C. Watts, and Speaker of the House Paul Ryan. The people he idolized were all very different people, and it was crazy to see how he was influenced from such a diverse collection of people.
When the interview ended I walked up to him to shake his hand and compliment his turquoise ring. He told me that it was a Zuni ring and how it was passed down from his grandfather to him. The interview was full of history just like the ring. He was a very wise congressman, and being able to speak with republicans like Dan Donovan and Tom Cole has really changed my views on government and has explained the reasons why they do the things they do.
---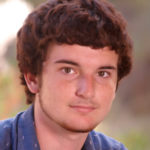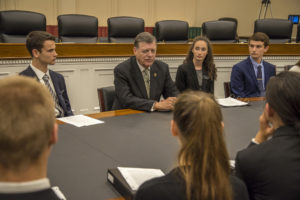 Today we had a fantastic interview with republican Congressman Tom Cole. The room where this interview took place was in the Rayburn Building near the Capitol. Afterward we were able to catch the other congress people as they came down the steps! Rep. Tom Cole really struck me and the rest of the class with his passion for storytelling. The Congressman got his point across with the utmost clarity. He spoke of his mom's influence on his political career, the tragedy of the Oklahoma City bombing, and the current division within the Republican Party. I also loved how open he was about controversial issues, and how he was not afraid to voice his ideas.
Coming from a very liberal area I believe that we were very professional in maintaining an open mind to new ideas that we might not agree with. Mr. Cole steadfastly defended his stance on oil extraction in his home state of Oklahoma, which I came to respect because of the importance that it holds in the entire state's economy and the pragmatism that industry does not change as radically and quickly as we often believe it can. It is from the small things like this that I believe aid in the process of learning. In Washington, DC there are many intelligent leaders like Mr. Cole to represent the people of the United States, and this was one of my favorite interviews so far. He really delivered when it came to the feelings department. I felt moved by his strong stance behind education, rights of Native Americans, and working to bring back the bipartisanism that the congress needs.