Values in World Thought Program
A Learning Journey to South Africa
April 4th – 20th, 2009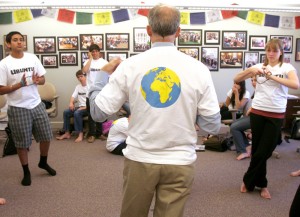 Ubuntu Intro
Introduction
by Project Leader

Ward Mailliard
The African phrase Ubuntu in its essence means "I am because you are," or stated another way "I am a human being through you." It is a statement of interdependence and interconnectedness. It also calls us into of our highest human attributes such as sharing, empathy, respect and compassion.
The initial inspiration to take a group of high school Juniors and Seniors on this ambitious journey to an unfamiliar part for the world was the opportunity to meet and speak with one of the great men of out times, Archbishop Desmond Tutu. Tutu was a hero of the bitter struggle against Apartheid in South Africa. Even more importantly, Tutu was a healer of a divided culture as a major exponent of the "Truth and Reconciliation Councils" that put victim and victimizer together to remember their humanity and connectedness in order to forgive and move on.
Last year my wife Kranti and I went to Cape Town to meet Archbishop Tutu in the hope that we might be able to bring Mount Madonna students to meet him as part for the "Values in World Thought Program." I was spurred on by the transformational magic of our 2007 trip to India to interview the Dalai Lama as part of Project Happiness. Through perseverance and the good luck of a friendship with a South African man by the name of Dawie Crous our request was granted.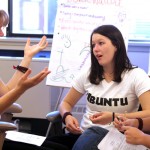 Working in Class
I asked my 11th and 12th grade students if they wanted to go and got a resounding yes! We did not want to go empty handed so I asked Archbishop Tutu's assistant what we could do to help our and she pointed us to the Philani Child Health and Nutrition Project in the township of Khayelitsha. The students led by juniors Mari Fox, Haley Turner and Mara Getz collected enough baby clothes, games and toys to fill 25 suitcases! The students also raised $2500. with projects like a hair cutting benefit and selling Ubuntu T-shirts at the flea market.
At one point in the planning Dawie suggested a detour to Johannesburg and a safari in Kruger National Park. Lisa Catterall, my colleague at Mount Madonna thought we should visit a project in the township of Soweto and Dawie suggested a visit to Cotlands HIV aids project for abandoned children. I emailed my new friend Linzi Thomas at MylifE, a project that is helping to get children who are homeless due to the AID's crisis off the streets of Cape Town. With her enthusiastic support we set up a meeting with some of those children at her headquarters.
The pieces are still coming together in a mosaic that will include a trip to Robben Island where Mandela was incarcerated and a discussion with some of men who are veterans of that time. We will also explore the natural beauty that is South Africa and study the environment.
We are who we are on this journey because of so many others: because Ray and Alrene Flynn of the Windsor Mill family helped endow the trip so everyone could go; because our families and school were willing to make sacrifices; because Dawie Crous was willing to take time from the biggest fund raising project of his career to help us plan and organize; because the students said yes to the adventure and said yes to the challenges and discipline it will require; because our friends at the Santa Cruz Sentinel said yes to hosting this blog.
This trip is an example of the principle of Ubuntu. In truth, no journey in life happens without the help of others. We hope you will play your important role as witness to the journey because all stories need someone to listen and all rites of passage need to be witnessed by the community in order to be complete. Join us now and read to what our students discover about this very different world and witness what they learn about themselves.