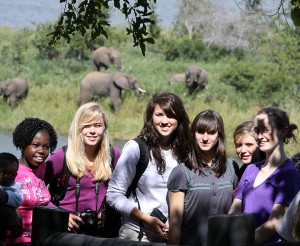 Kruger – April 8th
Today we had a 9½ hour drive to Marloth Park, which is just outside of Kruger National Park. As soon as we got to his house, Dawie rushed us all to the riverbank where a lion sighting had been reported. Many people were sitting on the bank, beers in hand, looking at the wildlife. Part of what is so great about South Africa is people's willingness to help complete strangers. Everyone on the bank helped us by pointing out the most exciting wildlife possible. The final group we met helped us by showing us the lion they had found. They allowed each of us to view the lion through their telescope.
-Mariel Fox
---
Dawie knows everything about the history of South Africa. Today, as we drove from Maropeng through several cities and townships towards Kruger Park, Dawie mixed facts with personal experiences to explain what we were seeing. No textbook could have taught me what I learned from hearing about Dawie's experience growing up in South Africa. It was fascinating hearing his perspective on the Apartheid movement since he lived through the chaos of those brutal times.
My appreciation of Dawie and all of the time he has sacrificed to make this "school" trip possible can not be expressed on paper. Rarely does one meet a person so generous, enthusiastic and dedicated. I think that my classmates and I will not only take his stories and lessons back to the United States, but also his good heartedness and free spirit.
-Leah Nascimento