Interview with Admiral Stephen Rochon
Director of the Executive Residence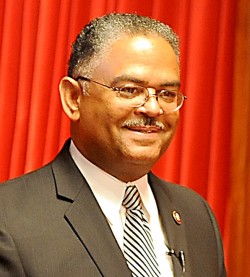 Today we had an interview with Admiral Stephen Rochon, a retired Coast Guard admiral who now holds the position of Executive Director of the White House Residence. After 36 years in the Coast Guard, Admiral Rochon was hired to be the Executive Director of the White House Residence by President George W. Bush. He is one of five people in Coast Guard history who began as an enlisted man and achieved the rank of Admiral. As Director of the Executive Residence, it is his job to keep the White House running smoothly as a home for the President and a historic shrine for the American public. His duties include everything from managing the staff who oversee upkeep, repairs and the grounds to choosing a swing set for the Obamas. He greets the President most every morning and walks with him to the Oval Office. He has met such important guests as the Pope, Queen Elizabeth II and even Stevie Wonder. Admiral Rochon is responsible for the coordination of 95 people, including housekeepers, painters, carpenters, cooks, plumbers and gardeners. Watching him interact with the White House staff today was a learning experience. He had a friendly word for everyone we met.


We conducted our interview in the White House movie theater. Admiral Rochon's story was amazing. He is one of the most deeply committed people I have ever met, both in serving his country and serving the First Family. He said his biggest priority was to make sure "that there was always a smile on the First Lady's face," because that means the staff is doing its job well and the White House is running smoothly. After our interview, we took a tour of the White House. We saw several rooms and learned about things that are not usually on the main tour. Along the way we met Bo, the Obama family dog who was very friendly and not bothered by being greeted by 31 eager students.
-Noah Limbach
---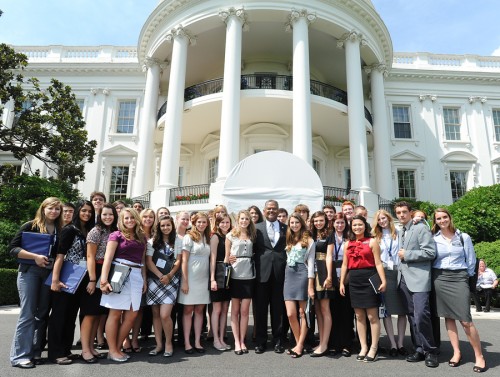 Today everyone was excited to go to the White House. We waited by the entry gate for a bit before Admiral Rochon came to meet our group. When he arrived he went down the line shaking everyone's hand as we introduced ourselves. He was easygoing and seemed genuinely glad to see us. He took us through security and into the White House.
He had so much wisdom to share with us. One of the things he seemed especially adamant about was the concept of showing gratitude. He told us that it is always important to let people know that what they do is appreciated, even if that person does not think their job is important in the grand scheme of things. Many of his values were "people centered." When he was asked about the similarities between the two different presidents that he had served, he focused on how they were both very family oriented, and truly loved their wives and kids. We also asked him about the comparative intensity involved in his earlier in the Coast Guard, and as his current job as Executive Director. He told us that however intense a job is, it is important to always leave that intensity at work, so as to be able to really spend quality time with your family. Another piece of wisdom he shared with us is that we should remember that there are people out there who will always be willing to help us and that we can't do everything on our own.
-Cliff Randolph
---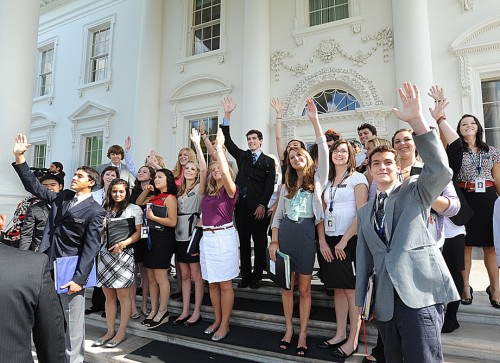 Admiral Rochon truly embodied hospitality. Being responsible for running the White House is a major job, but somehow Admiral Rochon still found the time to sit with us and give us a great interview. The message I heard from Admiral Rochon that was the most significant to me, was that it is important to be optimistic and seize the opportunities that come your way. While talking to us about future plans for his own life he said, "There is still something more out there for me." Just afterwards he commented, "I always think that a challenge is an opportunity waiting around the corner". For me, both of these quotes showed his optimism. I feel the first quote symbolizes his attitude toward life during times of change in the sense that he knows he has a purpose. The second is his overall take on life and explains why he has had so many amazing achievements. When you believe that challenges in your life are an opportunity waiting to happen, you set yourself up to try hard.
I think Admiral Rochon's advice "to be optimistic" is very relevant to this trip. If we take Admiral Rochon's advice and approach every challenge as another opportunity waiting to happen, we can really get the most out of this experience. A good example of this advice is that earlier in the week, when we were offered a last minute opportunity to converse with Ambassador Elizabeth Bagley we took it. Because we were open and willing to meet the challenge, we got the chance to talk to a very intelligent and engaging woman. I realize we don't have to wait to follow his wisdom.
-Jack Massion