Huzzzah and Jai Hind (victory to India),
We have arrived safely and are happily ensconced at the YWCA, Blue Triangle in the heart of Delhi right behind the huge Gurudwara, a famous Sikh temple. We are about to begin the India adventure in Delhi today. We will take a brief visit to Raj Ghat (Gandhi Memorial), then to Chandi Chowk in Old Delhi where I am going to throw in a rickshaw ride through the twisting lanes of the market. After lunch we will go to Jama Masjid, the impressive and historic Muslim Mosque. This the largest Mosque in India It was constructed in 1644 and 1658. The Jama Masjid is one of the last architectural works of the Mughal emperor Shah Jahan, the same ruler who had the Taj Mahal constucted. This will give the students a chance to get adjusted and see some of the colorful history of this historic and unique city.Then at last, yes, shopping!
We will try to spring one of the Sri Ram Ashram girls, Babaita from her nursing school for shopping advice in late afternoon. Two very dear friends Arti Bhati and Radhika Bhatia are also kindly helping us with the all important task of getting the right outfits for Indian culture.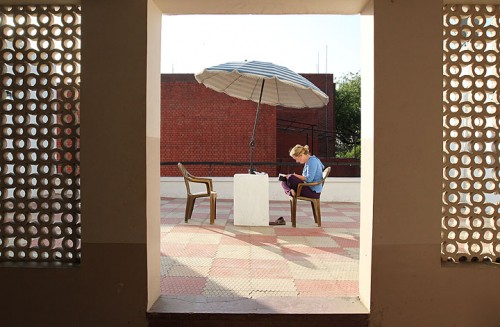 I spent an hour last night changing rupees for dollar. The exchange rate is 43 rupees to the dollar for those who are interested. Tomorrow we start our interviews with Ambassador Roemer and in the evening we will be with Mani Shankar Aiyar, a former Minister of the Central government and currently, a Member of the (Rajya Sabha) Upper House of Parliament. Mr. Aiyar also wrote a brilliant book title, "Confessions of a Secular Fundamentalist." It is a fascinating and complete argument for a secular state in India that respects all religions.
On a culinary note the kids first indian meal was vegetarian pizza ordered in from Pizza Hut. What a world! Today they will get their authentic Indian food experience at the famous Kareems restaurant in Old delhi, at lunch. This is the 6:30am calm before the storm. Everyone was very helpful in transition, moving 39 bags from the USA to India. 12 bags are for Sri Ram Ashram full of clothing presents and vitamins for the children. Five of them include the dismantled parts of a full size trampoline for the Ashram kids jumping pleasure. But don't tell it is a surprise.
Love
Sadanand Ward Mailliard