From April 19, 2011

This morning I woke up feeling under the weather so I unfortunately was not able to attend the first interview of the day with Ambassador Roemer. However, after lots of rest I felt up to going to the second interview with Mani Shankar Aiyar.
Driving to the interview was an experience in itself. I saw such drastic contrast just looking out my bus window. On one side of the bus I saw beautiful ancient architecture and on the other I saw extreme poverty. It was surreal to see so much of what I had imagined about India. I saw slums and people sleeping in the streets. I see homeless people sleeping in Santa Cruz all the time but seeing this extreme level of poverty made me grateful for all the resources we have at home. It was really difficult to observe people going without the help they desperately need.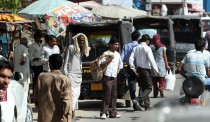 What struck me most about the interview with Mani Shankar Aiyar was how he felt that nothing was more important than education. He told us that his mother was willing to sacrifice anything so that he could receive the best education possible.
After the interview we drove to the Heritage School. Tomorrow we plan on having a conversation with them about incorporating values into education. While driving there we practiced a song we are very excited to perform for the faculty and students.
Lindsey Colton