Founder of Tibetan Nuns Project


Today we interviewed Rinchen Khando Choegyal, founder of the Tibetan Nun's Project. She was the perfect person to interview last because it seemed like her ideas combined the perspectives of many of the other individuals we had previously interviewed.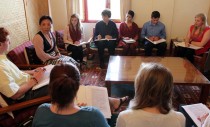 One of the highlights of this interview was when Emma Petersen asked, "I imagine that what you and others are doing for the nun's project takes sacrifice. If this is true, I am curious to know what values come to an individual from personal sacrifice?" Rinchen Khando Choegyal responded by saying that she wouldn't call it a sacrifice. It was something she wanted to spend her time doing and she enjoyed it.
Another highlight of the interview was when I asked the advice question at the end of the interview. She said that we should have set values and stick with them.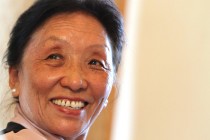 She also said we should have moral courage and know what's right and wrong. The last piece of advice that stuck with me was when she said don't cling onto things when they don't turn out how you hoped they would. She said let go and start fresh. It was a great interview to have at the very end of our trip.
Michaela Schuessler