Today we went to the township of Tembisa to see our friends that we had dinner with on Saturday night. We walked through the neighborhood with the students and soon became the center of attention. Many brave children came out to see what was going on. I played with the boys on the street while many of the girls went and held the babies.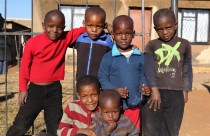 After giving us a tour of the township the students took us back to the community center and danced for us. They performed two traditional dances. They were unbelievably amazing. The intense sound produced by the dancers and musicians, combined with the precision and synchronization created an adrenaline filled experience for everyone watching. After their tremendous dances our class sang "Circle of Life". We in no way came close to comparing to what they did. In Tembisa I made several friends in just a few hours. Usually it takes me a few days just to make one. The openness and vibrant joy that came from these kids doesn't compare to anything I have ever experienced.
---

This afternoon we went to visit students that are part of an after school theatre program in Tembisa. Although we had eaten dinner with some of the students the previous night, none of us had any idea what to expect. As we filed off the bus, we were greeted by the warm and familiar hugs of the Tembisa students. We began to fall into easy conversation and I was relieved that our previous bonds were so easily rekindled. With anticipation, we sat down to watch our new friends perform.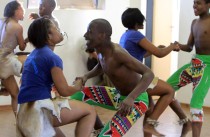 Suddenly they entered in traditional African costume, singing and stomping on the floor. I felt the floor shake with the powerful emotions of centuries; it was unlike anything I have ever seen. Unlike the western dancing that I am familiar with, this dancing was grounded and earthy and powerful. I couldn't help but stare in wonder throughout the entire performance. I realized that their traditional dances embody the spirit of the people of Africa. Everyone here has such confidence in themselves and they are deeply rooted in their own power. Often people in the United States tend to be very constrained and often timid. Neither way is wrong, but I find South Africa to be refreshing. I feel free to be myself.
After we attempted to live up to their incredible performance by singing the "Circle of Life" we all stood to sing together. We sang a song called Shosholoza that we had prepared beforehand so that we could have the pleasure of singing with the Tembisa students. We had practiced countless times on the bus, attempting to master the foreign lyrics and beautiful tune. However, once we sang with the Tembisa performers, something sparked inside all of us. I felt so inspired by their clear, powerful voices that my quavering voice seemed to gain confidence. I soon found myself singing loudly. My apprehensions melted away because of the friends around me. As we finished the song, all of us could feel that something special had just occurred. Our voices blended together perfectly, just as our new friends blended seamlessly into our South African experience.
As we pass the half-way point of our trip, I try to imagine having to leave this beautiful country full of contradiction. Saying farewell to my newfound friends in Tembisa was heart wrenching enough; I can't imagine departing from this country that has changed me so much. However, I know that whatever happens, the friends and connections I have made in South Africa will stay with me forever, just as the Tembisa students will inspire me throughout my life.