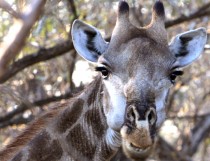 Today we headed to Kruger National Park. I have been anticipating this part of our trip for a long time. Before we began the 5 hour drive we made one stop, finally getting to meet Dawie Crous. We had heard so much about him from the students that went on the last South African journey. He played an integral part in the planning of their trip.
My impression of Dawie is that he is an honest and caring man. He talked a lot about what we need to do to make the world a better place. I was impressed by his commitment to do his part.
Once our time with Dawie was over, all I could think about was getting to Kruger. Our drive was a good time to talk to each other about our experiences so far because there is not much else to do on a five hour bus ride.
---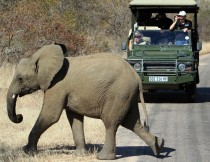 Today was our first day on safari. Our early morning start proved a success because within the first ten minutes we saw four female lions roaming the roads. After our lion sighting we continued our cold morning drive, eager to test our luck. Soon the crisp air was forgotten as we became engaged in looking at giraffes, kudus, white rhinos, zebras and impalas.
After lunch we set out again with our bellies full. As we continued our drive, the sun grew hotter, my patience grew shorter and the animals fewer. After eleven hours the sun and our expectations were falling. Suddenly, something jumped out of the bush and up sprang our guide Chewie thrilled with the sighting of this new animal. He proceeded to tell us that it was a side-striped jackal and that this was his first time seeing one. As excited as we were at seeing a new and rare animal, nothing could match the beaming smile on our guide's face.
Having a guide as friendly and approachable as Chewie, made the day a fun learning experience. He was knowledgeable about the bush and delivered facts in a way that was fun to listen to. Although we saw giraffes, elephants, crocodiles, baboons, zebras, and lions, seeing the jackal and how excited it made our guide, was one of the highlights of the day.
---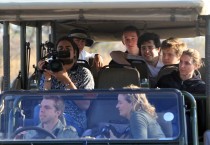 Today was our second day in Kruger National Park. Yesterday was pretty amazing. We saw four out of the Big Five – lion, leopard, rhino, buffalo and elephant. Although we didn't see a leopard yesterday, we saw many other amazing animals. We even saw lions on a couple different occasions.
Our first lion sighting was right off the bat. As we were leaving camp we saw four 1-year old cubs walking down the middle of the road. Our second sighting was of a huge pride of lions chilling in the middle of a field, stalking giraffes.
Although some people may have thought of the safari as just a bonus, I have learned just as much from our time in the park as I did from the first part of the trip. I think this is because we are back at the place where it all started. You get a feeling of home that nothing can top.
---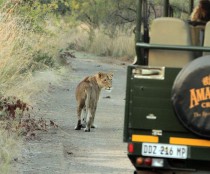 Sitting in our jeep in the freezing cold, wanting to go back to bed, all we could focus on was the many layers of clothes we were wearing. As our eyes glazed over and the sun rose,we felt our jeep gently stop. Up ahead, much to our surprise, were four lions on the edge of the road, playing together. We were not expecting to see one of the Big Five first thing in the morning. At the beginning of our safari we were warned to keep our expectations low. Now, the bar was set high.
As the day progressed, we were continuously surprised by our sightings. We saw countless giraffes snacking on leaves, herds of elephants silently teaching their young how to fend for themselves, and hundreds of impalas lurking by the road. We saw everything up close. We saw the unique pattern on each zebra, the sinewy mouth of the white rhino, and learned how to tell the difference between a male and female giraffe by their horns.
After our first rhino spotting, our guide Chewie talked passionately about the danger they face from poachers. He informed us that rhino horns sell for around $20,000 per kilo. Their average weight is 4-5 kilos. Every twenty-one hours a rhino is shot and killed, it's horn cut off and sold in the Black Market. Often the horn is bought and used to make traditional Chinese herbal remedies.
Our group was intrigued by the facts Chewie told us. His method of teaching did not seem like an ordinary classroom lecture. He captured our attention and we felt more knowledgeable with every bit of information he gave us.
---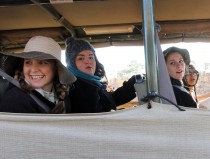 Our time here at Kruger National Park has been staggering. I have seen so many pictures of the vast African savannah, but none of them captured the true feeling of actually being here. Seeing the majestic elephant lumber across the road, a journey of giraffes nuzzle while munching leavesand a crocodile lazing in the warm sun. While I have seen images of these things in a book, experiencing them first hand was a much more powerful experience. The people in our Jeep were fortunate enough to see the Big Five all in one day. We saw the first four animals within the first half of the day. Each time we saw one,I fell silent in wonder.
Our guide Laura explained to us how rare it is to see leopards and we should not get our hopes up. After lunch, we saw three cars pulled off the side of the road, all of their inhabitants pointing excitedly. Partially hidden by the shade of a tree, a leopard lounged about 40 feet away. I felt lucky to have had this experience.
All the animals here at Kruger hold a special dignity. It is beautiful to see them in their natural habitat, unrestrained by zoo enclosures. The lights of a city on the horizon served as an ever-present reminder of the encroachment of humans on our wildlife and I desperately wished for those lights to disappear. I feel at home here on the open savannah, where the zebras gallop wildly and the lions prowl without fear.
---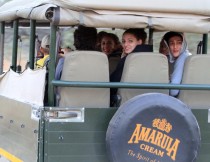 My face burned from the icy wind as we drove through the park. It hurt but was worth the pain. That's the feeling I got as we drove through the freezing cold. Then I saw an animal and it was all worth it. Not more than a minute out, there was a herd of Cape Buffalo sleeping five meters from our truck. It was astounding to see such dangerous animals behaving in such a calm manner.
I walked behind our guides, Chris and Dwayne, as we followed a hippo path. They knew it was a hippo path because rather than one solid line, there was a line of grass growing down the middle. Rather than crisscrossing steps like most animals, a hippo's steps fall in straight lines.
We followed the path and it led us to a lake where we saw and heard a choir of hippos. As we walked along our guides shared their extensive knowledge of the foliage, tracks and other indicators that animals had passed through the area, and the meaning of certain animal behavior. One example Dwayne gave was the oxpecker, with its identifiable tweet, which will often land on animals like the rhino, elephant, and hippo. If you see one most likely you will see one of these animals in the area.
On foot we saw hippos, rhinos, impala, and an antelope. Then when we got in our jeep, two impalas came around the corner followed by five baboons. The baboons were startled and started to run. That's when the real excitement began. Another 40 baboons came running out of the bush. Sights like this are why I love this place.
Gorgeous sunrises and sunsets, the freezing cold and the sweltering heat, and the majestic animals are what keep this land a place of wonder and excitement.
---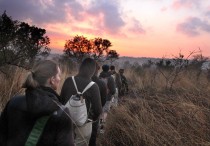 Throughout the past three days at Kruger National Park I have seen a mother lion with her cubs, a leopard lounging under a tree, a baby baboon riding on its mother's back, elephants crossing the road 20 feet from our Jeep, giraffes chomping on trees, and impalas bounding across the horizon. I have walked along paths made by buffalos, ventured through grass that towered feet above me, climbed enormous boulders, and gazed out over the vast African savannah. Through these experiences I have gained a deeper understanding of my place within the world. I am so small in relation to the rest of the planet. My life is just a tiny piece of the puzzle, and yet I have been completely absorbed by it for the last 17 years. There is entire ecosystem living and thriving that I have been completely oblivious to. My experiences at Kruger Park have brought me to the humbling realization that life stretches far beyond the confines of my own reality.