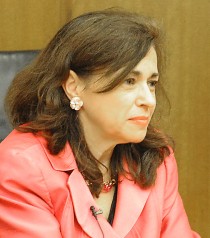 Under Secretary for Public Diplomacy and Public Affairs, Tara Sonenshine, welcomed us warmly when she walked into the room. She seemed enthusiastic about our visit. Once we sat down, she asked us what our names were; this greatly impacted us. McKenzie Caborn mentioned later how this meant a lot to her, "I think the fact that she asked us all our names showed that she wasn't only here to tell her stories, she wanted to hear ours as well."
During our time with Under Secretary Sonenshine, we asked her what her guiding principles have been. She told us to, "Care deeply about the world at large," and to, "Want to be a positive force in world." She said, "You want voices of ordinary people to be a catalyst, a change agent." She emphasized the importance of involvement in the community and gathering the voices of the general public.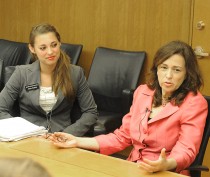 When we asked about the role of the media in helping citizens to be well informed, Under Secretary Sonenshine had a positive attitude saying, "I think the information is empowering us." But she cautioned that the public must use discernment to sort out which information was hyperbole and which was honest truth.
Next we wanted to know how society could understand and engage in conflict as a positive force. Under Secretary Sonenshine responded, "Conflict is a natural part of society…conflict is a part of natural conditions; we need to agree to disagree. " She explained that conflict is necessary for development and that with the right tools we can revolutionize the function of conflict and constructive argument.
For our last question, Blythe Collier asked if there was any advice Under Secretary Soneshine could give us. She said, "The most important currency is ideas…write your thoughts down…they are fleeting, they come and go. Jot them down and share them with someone; that is how you get the momentum of ideas."
---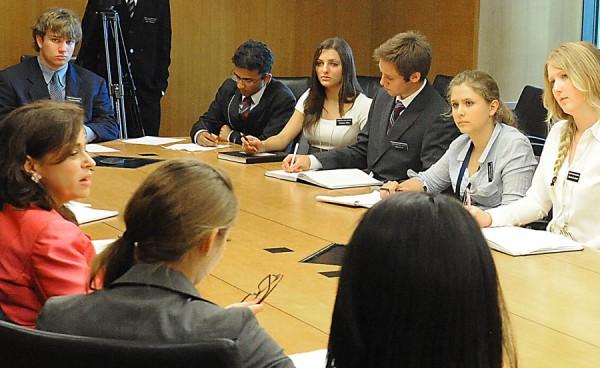 When we began our interview with Under Secretary Tara Sonenshine we asked, as usual, if she had any opening remarks before we asked our questions. With this, she began to talk about her past. She described her path to working in the news industry, mentioning every fork in the road along the way. She talked about growing up in a Yiddish household and how important our roots are in creating our lives. She mentioned studying abroad in England and the importance of travel to gain a better picture of the world. She spoke of the moments in her life, how each one led to the next, and how connected the beginning of her story is to the middle.
Under Secretary Sonenshine's intent was to show us the importance of taking risks. A person's life is created out of their impulsive choice to seize opportunities as they come their way. She said, "When you see a really interesting fork in the road, take it."
What interested me about this concept was how one cannot plan for the forks in the road, and when those choices come, one has very little time to make the decision. When Under Secretary Sonenshine was given an opportunity to join ABC news, it meant dropping her entire life and changing everything. It was a risk but she did it anyway.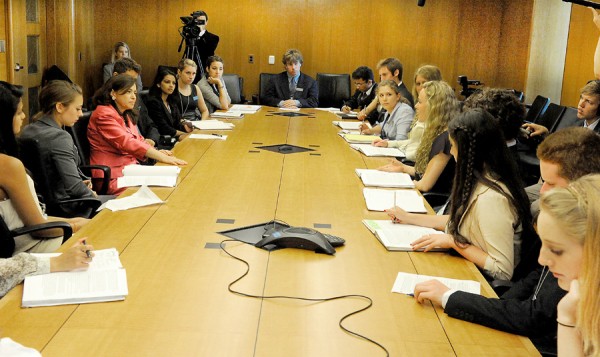 Towards the end of the interview Under Secretary Sonenshine said, "You will drive change if you are willing to change." Being flexible with the course life decides was a prominent theme in her responses. Flexibility combined with passion, is what brought her to her current position as Under Secretary of Public Diplomacy and Public Affairs. She engaged in each moment of her life, learning from experiences and taking risks, and now she's in a position in which she can truly affect the world.
Under Secretary Tara Sonenshine's story was inspiring. She taught me to be open to change, to respect the current of my life, and to seize opportunities no matter how sudden and frightening they may seem to be. I shall never forget the lessons she showed us simply by being open and sharing her story with us.