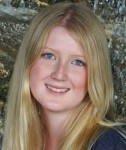 One month ago, one of the twelfth grade students at Sri Ram Vidya Mandir passed away of a brain aneurism. It was sudden and left many here grieving for the boy they had known most of their lives. Though his family is part of the Gujar people, who live very humble lives as dairy farmers, the father and family insisted on paying for the boy's unfinished education. In remembrance of the boy and in honor of the family's dignity, the students and the school decided to donate their end of the year party funds, as well as the boy's school fees, to create a scholarship in his name. We are proud to say that we also contributed to this fundraiser.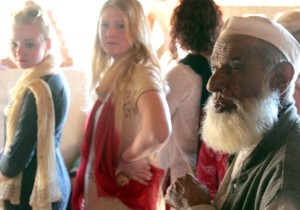 Today we met his father and he brought us to a series of Gujar villages in the mountains, just minutes away from the ashram. After traversing the road that was more of a trail for hiking than anything you would choose to drive a bus on, we arrived at a handful of mud huts with grass thatched roofs. What first struck me was how uniform the houses were. They had smooth, lightly colored walls with clean corners, and intricate windows where the roof met the walls, to allow for airflow. The entrance was usually just a break in the wall, though sometimes it had a log across it to keep the cows from wandering into the houses. Inside was also clean and organized, with shelves carved out of the deep mud walls.
The father led us around to various clumps of houses and introduced us to the large families. Each family had around eight kids; there were around 50 people in each village. When we asked in one village if the children were being educated, we were informed that a tutor came to teach a few of the kids. We asked if anyone left the village when they reached adulthood, they proudly replied, no. In one respect, I thought this demonstrated that most liked their life in the village. However, I remembered that the father guiding us around had left this village so that his son could attend school. I was struck by how difficult that choice must have been.
I have tremendous respect for how those villagers seem to live their everyday lives; they do a lot with the little that has been given to them. Whether it is their modest houses, their welcoming attitudes, or their delicious fresh milk that goes straight to the ashram, they produce a lot of good from very humble means.
---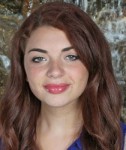 Sri Ram Ashram is unlike any place I have been before. Everywhere you look you see kids; on the swing set, in an intense game of cricket, or girls sitting in the shade doing each other's hair. Everything they do is on a very strict schedule and yet the ashram has a relaxed feel. The kids are very familiar with each other and they work together to get the things accomplished.
People here at Sri Ram Ashram are great at creating community. This seems to be built on finding commonality. Even though we are from such different parts of the world, this was surprisingly easy to do. For the boys sports has been essential to the male bonding. Every time we have a free moment they are on the field playing cricket, ultimate Frisbee, or basketball. For the girls, it's things like a shared love of animals, or a new braiding technique, or a shared interest in another culture.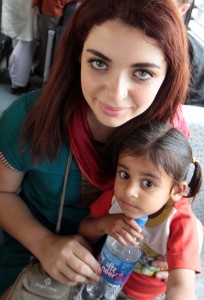 From the moment we arrived, the ashram kids have been unbelievably welcoming and very eager to get to know us. We were lucky enough to skip the awkward first stage of meeting strangers and have moved into a much more comfortable place. Our days here never lack excitement and entertainment. When we are not playing sports or running with the little kids we are dancing. Tonight the MMS seniors will be performing a Bollywood style dance in front of the entire ashram. Our dance instructors have been working tirelessly to teach us a style of dance that has proved difficult to perfect. After hours of practice we have gotten much better, but this is not very comforting since we have yet to practice in our saris. The ashram kids will also be performing a variety of songs and dances, all of which I am sure will be much better than ours. There is a lot of excitement regarding tonight's festivities, though we all are praying that we do not forget the entire dance.
Tomorrow we depart for Amritsar and I can honestly say that I am not ready to go. If it were up to me, I would spend another month at this amazing ashram with its amazing people. I will always cherish the memories I have made here and hope that one day I can come back and make many more.
---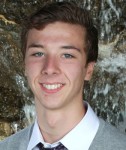 Sitting on the balcony of the third floor of the Ashram I look out over the preparations for the March Birthday/going-away party. Speakers, lights, chairs, and a microphone are all in their places in the courtyard. As I look out I see that all of the kids do their share. I'm trying to not think about the Indian dance that we will be performing, or the songs we will be singing; I'm just trying to think about our time in India so far.
It feels like it has been a month, traveling from San Francisco to Seoul to Delhi to Agra to Haridwar. There hasn't been enough time at any of the destinations. Already I'm thinking about the Taj Mahal, wishing I'd had more time to take in its beauty. Or Pardada Pardadi, and the ever-smiling girls that make it what it is. Or Haridwar, including Har Ki Pauri, the Gujar village, and the Ashram. I'm already remembering the kids and their smiles, and the fun we've had so far playing knockout, ultimate Frisbee, soccer, and cricket. The Sri Ram Ashram has become our home away from home. I miss it already, and we haven't even left yet.