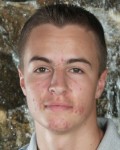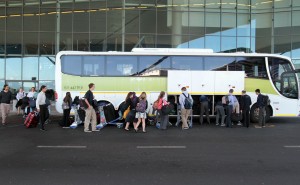 Yet again, sleep eludes me. I don't quite know what it is about being on an airplane that forces me to consciously wait out the entirety of my journey upon them. Perhaps it is the awareness that I am leaving behind my familiar reality and stepping into a new unknown…or perhaps it was the lack of legroom. Whatever it is, it has given me time to ponder what I am slowly approaching. I am filled with a mixture of curiosity, excitement, and apprehension. I feel that the apprehension is a natural response to embarking upon a journey such as this without any experience or knowledge of its possible outcome. The excitement is a product of my curiosity about what is to come. I am confident that this experience will be worthwhile, and that there really is no way of knowing how it will play out. Therefore, all I can do at this point is keep an open mind and see what happens.
---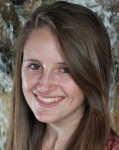 No one knew what to expect when stepping off the plane in Cape Town. After countless hours of traveling, we were exhausted, but also excited to experience a new country with new surroundings. None of us had done anything quite like this before. Sharing such an incredible experience with all of our best friends was new and exciting for everyone on the trip.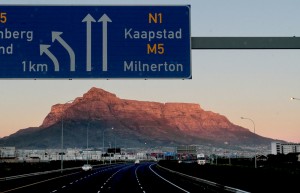 After retrieving all of our personal and donation bags, we piled into the bus that was waiting for us and quickly became fascinated with the passing scenery. We were entranced with the similarities and differences between South Africa and the country we had known our entire lives. The airport seemed pretty similar to what we knew, but once we got on the road, the differences became apparent. I discovered that the speed limit signs are in kilometers per hour (the speed on the freeway was 120) and that driving on the other side of the road with steering wheels on the right is quite disorienting. From one side of the road to another, there could be two completely different worlds. One side might display upper class houses and a shopping center while the other might display a township where one could view the struggles of those who have a harder time making a living. It was incredible to see how no matter what people had they seemed to make the best of it. Whether that was a large, two-story house in a gated community or a small, makeshift house with broken windows, people were laughing and having fun.
Seeing all of these things made me want to appreciate what I have and get the most I can out of this incredible opportunity my class and I were given. Not everyone gets this experience, so taking advantage of it is the best thing I can do. We have prepared for this trip for months and knowing that it is finally here is surreal. I am so excited for everything we have in store.
---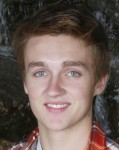 Today we took a ferry out to Robben Island off the coast of Cape Town and met with a man named Thulani Mabaso who had been a prisoner there for ten years. He told us stories about his time on Robben Island and took us on a tour around the prison and the general island. He was an incredibly mellow and soft-spoken man, choosing his words carefully to give us the best description possible.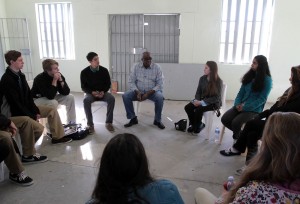 There was one moment in particular that really struck me. When Thulani first took us into the main building he showed us the visitor center. When guests first arrived on the island they were taken here to meet with prisoners, for a maximum of thirty minutes. There was a row of chairs facing thick glass windows, behind which prisoners would sit. Thulani went on the prisoners' side, and the rest of the group went on the visitors' side. Once we were there, I sat in the seat in front of Thulani and he put his hand up to the glass and pressed his palm against it. I put my hand up as well, and through the glass we put our hands together. He later explained that this was how visitors and prisoners had said goodbye when their time together was up. Even before I learned that, I was immediately overcome with a profound feeling of connectedness not only to Thulani but also to the true weight of what had happened on this island, in these walls. It was as if I could feel the agony of only being able to see someone through thick glass, being unable to touch them or hear them without the help of a crackly little speaker box and a telephone. Of course I could never know the true extent of the experiences people had on this island, but I felt I got a taste of it that most people never get, and that was really special to me in that moment.
---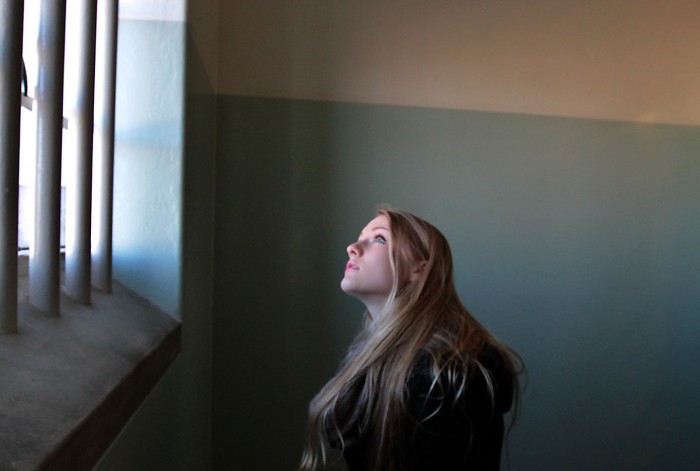 ---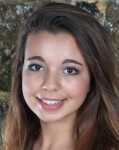 It is our second day in South Africa and already I have fallen in love with this remarkable place. As we boarded the bus in the morning to begin our journey towards Robben Island, we found ourselves struck by the beauty of this country. Ahead of us was Table Mountain, illuminated by the pale pink of the sky and the twinkling city lights. The sight of this left me in awe and sparked a growing anticipation within me to journey through the rest of the day and explore the remaining beauties of South Africa.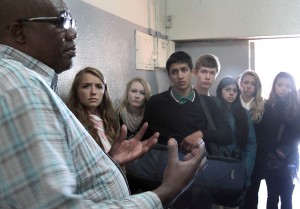 Our trip to Robben Island impacted me in a way I had not expected.
We boarded the boat and soon enough landed on Robben Island, where we were given the pleasure of meeting Thulani Mabaso. I was speechless by the end of the day as I recounted the impactful stories he told. Held captive in a prison cell with nothing but a mat to sleep on, Thulani was abused both physically and mentally. He was severely tortured, and was provided with false promises from prison guards as they used family visits to demoralize him. He recounted a day that he was told he would be given a short visit from him his father. This information provided Thulani with a rare sense of hope. However, Thulani did not have a visitor on visitor's day, and was informed that the same men who tortured him every day had shot his father.
Seeing Nelson Mandela's prison cell brought with it yet another surge of emotions. As Thulani unlocked the door to the cell where Mandela spent many years imprisoned, he grew suddenly quiet and became emotional as he stared into the empty space. I could see the pain in his eyes and could only begin to imagine the sadness that was triggered by the memories of this cell. I think that they were particularly powerful given the current state of Nelson Mandela's health.
Walking through the very prison where so many had been tortured felt surreal. How Thulani acquired the courage to return to this place where he spent his darkest years is beyond me. I am incredibly inspired by the bravery it took for him to retell his stories, even as he found himself struggling through the difficult emotions that the memories brought with them.
If there is one thing I can take away from today's many experiences, it is the significance of hope. Thulani never stopped believing, never let go of hope, even in his darkest times. He had nothing to hold on to but hope and it is because of this that he now stands here today, telling his story and looking down upon prison cells that now remain empty.