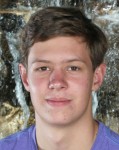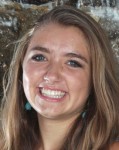 While traveling in the bus, our focus was centered on the sunrise gleaming upon Table Mountain. Gazing at the magnificent natural wonder, we realized that it was our goal to explore it. Little did we know that later that day our dream would come true.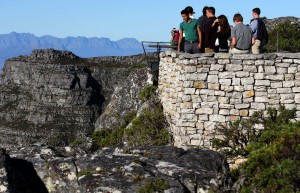 After a tour of Robben Island and an interview with Thulani, we re-entered our bus. Once we were all seated, our teacher Ward asked us if we were up for another adventure. He proceeded to ask us if we wanted to go to Table Mountain. We jumped with joy, and all agreed to go on the excursion. However, due to a national holiday called Children's Day, which commemorates the Soweto Uprising, we were uncertain whether or not we would be able to visit. With great anxiety we arrived at the bottom of the mountain and gazed up at its tremendous glory. We stood and anticipated the final decision to whether or not we could fulfill our greatest desire.
We were overjoyed when we received the news that we would ascend to the top of the mountain.
As our gondola climbed Table Mountain the view and our joy increased with every second that passed. After a reasonably short ride we stepped out of the gondola and gazed out at the view. Our expectations were immediately exceeded. We took a couple of group pictures and we were set free for a hard fought 45 minutes. Our joy at being set free turned to determination as we thundered by pedestrians, and a man that compared us to Forrest Gump. We ran from one side of the summit to the other, jumping off rocks, like stampeding kangaroos.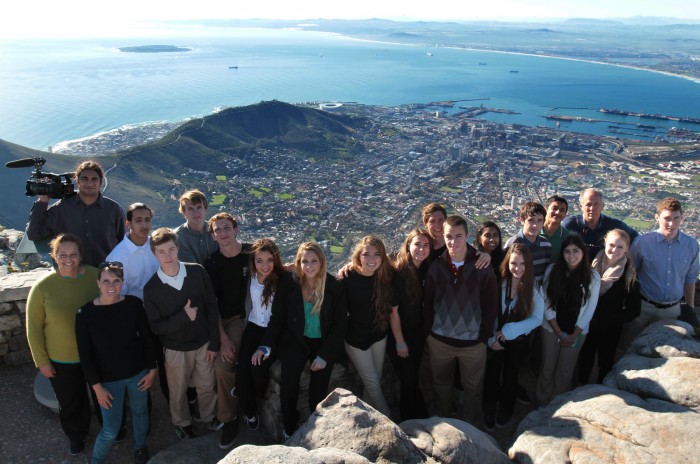 Despite our time restriction we ventured down the south side of the mountain. Rambling through dense brush that cut our ankles, we came upon a cement shack. From here we heard our classmates yelling across the gorge to inform us that we only had fifteen minutes left. Knowing that Ward would be less than pleased if we were not punctual, we took a risk to reach the climax of our newly found peak. As our last few steps were completed we experienced a 360-degree view of the city, Robben Island, the ocean, and other mountains. With a feeling of satisfaction we looked down from where we had been dreaming of being ever since we first arrived in South Africa. We took it all in and started on our trip back to the group. After ten minutes of sprinting up and down hills, through harsh terrain, we arrived at the group short of breath, with bloody ankles, sore legs, and a deep sense of accomplishment.