Eileen O'Connor is the Deputy Assistant Secretary of State for South and Central Asia as well as Senior Director of Communications and Public Diplomacy in the office of the Special Representative for Afghanistan and Pakistan.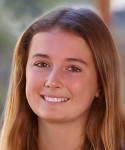 Eileen O'Connor is a woman of tremendous grit, intelligence, and spirit. Ms. O'Connor has had a diverse and exciting career, working as a combat journalist, attorney, and now Deputy Assistant Secretary of State for the State Department. In the midst of all this, she is also mother to five daughters.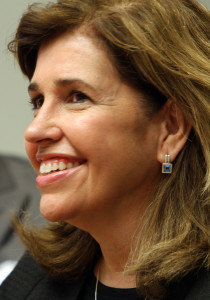 When Ms. O'Connor began to speak, I immediately became immersed in the power behind this woman in front of me. The clarity of her voice and the vehemence of her words brought me into the story of her life, of her struggles, triumphs and experiences. The variance of what she has seen is incredible—from war zones to the inner workings of the government, very few people have had the opportunity to see the world through a perspective like Ms. O'Connor's.
Although I was captivated by Ms. O'Connor's stories, it was not until she began to talk about the challenges she has faced that her words pulled at my heartstrings. Ms. O'Connor said to us, "If you believe in something, you shouldn't sit back and expect others to fight for it." Almost instantaneously, I made a connection to our interview from earlier in the day with Alyse Nelson in which she discussed the need to find a driving force in life. Life is a journey of discovery in which we each must find what we believe to be meaningful. This is the driving force Alyse Nelson spoke of—that which actually matters to you and pushes you to action. What I realized with Ms. O'Connor's words is that once you find your driving force, you inherit a responsibility to whatever it is you care about. Finding your passion is where the journey to fulfilling your life's purpose begins. Once you find that passion, that driving force, you are the only one who can assure that its spark is not stomped out. We all have a responsibility to share what we care about with the world, and we cannot entrust anyone but ourselves with the task of assuring that it is not forgotten. This does not mean forcing our passions upon others, but rather participating in human dialogue and gaining an appreciation for all that is meaningful in our world. As Ms. O'Connor said, "Raise your hand gently, but still raise your hand." Your beliefs, your passions, and your driving force, all of this is particular to you and no other. We each have a light that we bring to the collective whole, and we must share our flames to create the blazing fire that is the power of human connection.
---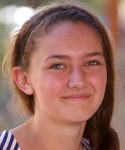 "It had long since come to my attention that people of accomplishment rarely sat back and let things happen to them. They went out and happened to things." –Leonardo Da Vinci.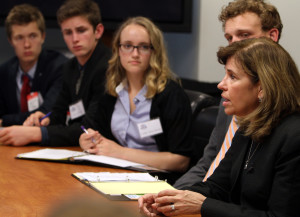 Eileen O'Connor, the Deputy Assistant Secretary of State for South and Central Asia and Senior Director of Communications and Public Diplomacy in the office of the Special Representative for Afghanistan and Pakistan, is truly a woman who happens to things. From working with organizations such as Vital Voices, and the Women's Refugee Commission, to being an on-air reporter, to serving as President of the International Center for Journalists, to working as an attorney, Ms. O'Connor is not one to sit idle. As she said, "If you believe in something, sooner or later you have to get into the arena. You can't just sit back." Seeing a woman so passionate, energetic, and genuine about everything she does was empowering. I could physically feel her enthusiasm spreading through the room, as I sat mesmerized by her candid attitude. The aspect about her that struck me most was her unique ability to discern between what is truly right, and what is right for her. When speaking about the differences she has found between being a reporter covering government affairs, and being in the government she said, "If they're doing something wrong, that needs to be published." Her capacity for seeing issues she feels passionate about, and taking the lead in solving those issues, despite any obstacles, was absolutely inspiring. One of the themes I have found throughout each and every interview is how these leaders have told us that feeling passionate about a cause is simply not enough, we have to go out and make the changes we want to see. We cannot wait for leaders, we must make ourselves leaders.