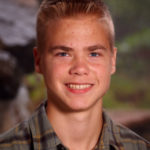 On our first quest of the day, we visited Norman Henshilwood High School. As our bus pulled into the school, the air was ripe with anxious and excited energy. We had no idea what to expect. As our class walked in, we were greeted by all of their choir and dance team members—all our age group. I made it my personal mandate to throw myself out there and incite conversation fearlessly, but I was considerably nervous and in need of an ice breaker. When we exchanged names initially, I forgot most, if not all of them, immediately. I would come to learn them later on though.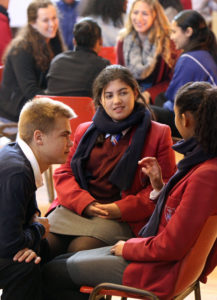 We all got tea or coffee and a muffin. Alas the conversational mixer began and we walked curiously towards the group of equally curious kids. I leaped and plunged into the chilled waters of imminent judgment and fear of the unknown. As it turns out the kids I approached were probably as apprehensive and tentative as I was. After a few forced awkward and arbitrary mutual inquisitions the facade of nervousness was lifted and the conversation flowed more easily and happily. As my friendship with them progressed I began to like them more and more, and how dynamic and open they were became increasingly apparent. The people I talked with the most during my time at the first school were Mikayla, Miche and others whose names regrettably I cannot recall.
Along with the many mutual interests we discovered, like various movies, books, and among all else jelly beans, they also shared their perspectives on apartheid and their governmental corruption. It was interesting to hear such an insightful stand on such things from kids who had not been alive during apartheid but had been influenced by its effects their entire lives. I grew to be really fond of them and how open they were. It was also mind-opening to talk with these kids and realize just how similar we are because of the humanity we all share.
Next we shared our critically acclaimed radio hit single, a rendition of "Shosholoza," a meaningful and cultural African song. We also shared the songs "Nkosi sikeleli" and "This Little Light of Mine" with them, and on the latter tune they were requested to join in, and they did. As was tradition since our meeting with the LEAP School of Science and Maths on Wednesday, the songs and dances they prepared to share with us were outstanding and breathtaking and made our contributions seem meek. They were just happy that we attempted to learn songs in a different language and we exchanged praise for the gifts of performance that we had shared with each other. We had been casually cultured in the art of the gumboot dance at LEAP School, but now we were taught it more articulately and I was grateful for what they taught us. There was a band for a moment and we all sang and danced together. Music brought further unity to the bonds we had already forged. My friendship with many of them is a blessing. I've learned so much from them, and I hope to continue them as best I can long distance.
Later on we traveled with the Norman Henshilwood students to Heathfield High where we joined with students from Heathfield and Wynberg. The kids we met there were equally as open and fantastic as the kids prior. They also had a band and we talked and sang and danced together. One kid I met taught me more about the gumboot dance and we laughed and talked as he repeated the knee slapping routine only to have me mess up the timing again and again. We listened to music collectively and danced towards the end of our visit. This is when I started actually fully letting loose. We listened to various popular dance songs that we all knew the words to all too well and screamed the lyrics all too loud. I met someone later named Tab who had really diverse taste in music, which was a great mutual connection to make. This sheds light even further on just how similar we all are, even if we live on different continents. Overall our visit with them was extremely mind-opening, enriching, and just plain exciting. Meeting them was a blessing, and I would do it again in a heartbeat.
---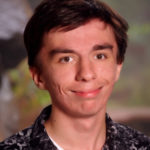 When we arrived at Norman Henshilwood High School, I was expecting to meet new people and converse about our lives. It was unexpected when I found myself discussing the things I'm most passionate about with complete strangers. I got into a small group with Alex, a boy named Thabiso, and a girl named Jodi. We talked about what we would do if we knew we couldn't fail. This was a question that I remembered from my first week of Values class this year. After we each came up with our own unique answers, we ended up talking about music. Within seconds our group's mutual interest in hip hop got us all very excited. Very rarely do I get to discuss my favorite Kanye West album with people I meet on school trips. Next our class learned new songs and dances with our new friends. The day wasn't even half over at this point, nor was I done meeting new people.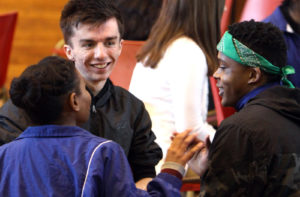 We traveled to another high school called Heathfield. We were welcomed by an extremely talented school band in a giant auditorium. I was very excited to listen to the saxophone player. I talked to Jodi about how great of an instrument the saxophone is and how we both wanted to learn it. We played music on the speaker system, and the entire room was jumping up and down to songs like the concerts that I go to with my best friends. At that moment I realized how music could get people so excited to be together and invoke memories and such strong energy.
Luckily I am able to stay connected with these people because of social media. Even though I'm sad that I will probably never see these wonderful people again, I was glad that I got to make such deep connections. "Uxhumano" means connection, and our goal in traveling to South Africa was to make them. I didn't think these were the connections we would be making. I wasn't the only one to be building relationships throughout the day. My whole class made new friends and had their own friendships built. I was happy to see my peers having their own adventures and experiences. I really hope that I can find common passions with the rest of the unique people I meet in the country of South Africa.
---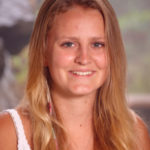 Once we arrived at Norman Henshilwood High School, we were warmly greeted by all the students and faculty that would be with us for the rest of the day. It was cold, and we warmed up with coffee and muffins. We started out with smaller circles where we discussed what we would do if we couldn't fail at anything. Everyone in my group said that they would choose to do everything and anything if they knew they wouldn't fail. We then talked about concerts, and they immediately wanted to know if I had met any celebrities, and if I had seen them walkin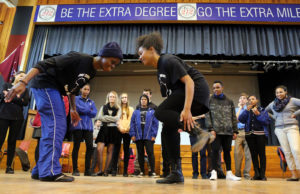 g down the street often.
Our classes then sang Shosholoza and their band performed a song for us. The music is what really brought our groups together and for the rest of the day we just sang and danced. Later on they taught us their gumboot dance, which is where you stomp your feet while simultaneously slapping your calf and hitting your feet with your hands. One, two, three, four, one slap right calf, two slap left calf, three slap inside of right calf, four slap inside of left calf, repeat, four cross left leg behind and whack foot, repeat, stomp right foot, slap right thigh then left thigh, stomp left foot, slap left thigh then right, stomp right foot, clap hands together, done!
Music and dance is a huge part of their culture, and although it is not a big part of ours, we can still sing and sort of dance. These two shared interests are what helped us bond and make new friends. All year our teacher Ward had been warning us of the importance of knowing a set list of songs, so we would be able to perform them to the people we visited throughout our trip. Never did I think that performing and singing songs would be so powerful. It was truly an amazing experience that helped connect us all. Never before have I experienced the power of dance and music like I did today. I will never forget today's experience and all the people I met.