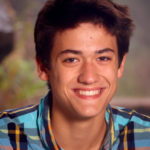 As the other group staying at St. Peter's Place enters, a confused look overtakes their faces. We have placed four MMS kids at the six-person tables so that every table has a student. Our teacher Ward explains that he wants our two groups to mix. The awkward eye contact and conversation that ensues torture me. I excuse myself to go to the bathroom. When I return from a maze of hallways I find my classmates lined up to sing.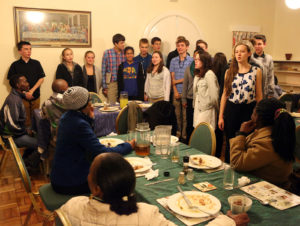 As we harmonize, "Shosholoza" transforms singers into friends: hooting, clapping, and embracing. I return to my seat and a man sits down next to me.
"Hello my name is Holden," I say.
"I am Boi," he responds.
A flicker of a happiness bursts into a smile and he asks me, "How did you learn those songs?"
"From our music teacher and the internet. What is this group here for?" I ask.
"For support. I am HIV positive." His smile dims as his sincerity grows. "Thank you for the song. It was a gift. It helps me take my mind off it."
Before I can say anything else he stands up and joins his group to sing for us. His openness shocks me; music opens a door that I didn't know was closed. I feel a swell of emotion that I want so desperately to describe, but never destined for capture, the words elude me.
Boi, I don't think you will ever know how that moment touched me. How in the brief interaction we shared, I realized something. It is in others that we discover ourselves; by their light we write our own stories. If we know no one else, if we do not hold a place in our hearts for strangers and invite them in, then we never will know ourselves. Thank you, Boi.