Interview with Dr. Mamphela Ramphele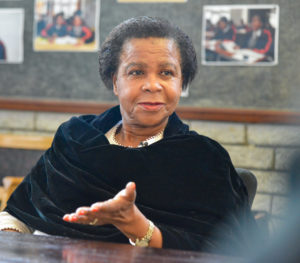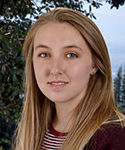 Agang means "let us build" and was the name Mamphela Ramphele chose for the political party she started in 2013. To her, Agang was a challenge to South Africans and meant to set the tone for a different type of politics. This amazing woman, whose eyes told as many stories as her words, called this idea of hers naive. It was unbelievable to see such an accomplished woman, who had lived such a full life, speak so humbly and so full of hope. She spoke as if she had only just gotten started, and that too gave me a sense of hope for the future.
Mamphela Ramphele is a medical doctor, activist, politician, and businesswoman. She was a co-founder of the Black Consciousness Movement, the founder of the Agang political party, and the first South African manager of the World Bank. In front of us sat this woman, who seemingly stood on the top of the world, taking questions from us. She had been through so many challenges and yet she described them to us as "disturbances." Disturbances in the flow of the world, in the flow of her life, in the flow of the progress toward justice that she promoted. Disturbances will pass and the flow will continue, the world will go on.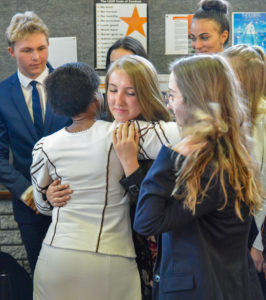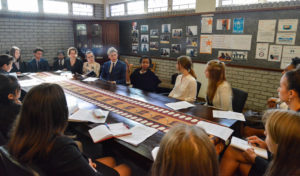 We held our interview with Dr. Ramphele on the grounds of the LEAP School at which she has a grand-nephew attending. She spoke optimistically of our and future generations, but she also recognized that no one generation is responsible for the future. She often stated during our interview that we should make everybody's dignity our business because we are all connected and if we cared then the world would be a better place.
After the interview we stood there breathless, speechless, and with shivers down our spines. As our first formal interview, this was not what I expected. I felt as if I should immediately run out of the building, screaming at the sky, and trying to make a difference. It was as if in just over an hour she made me realize how little I had contributed to this life, and how much potential I had to change the world.
Turning a blind eye to work that needs to be done is the same as betraying yourself, betraying humanity.
---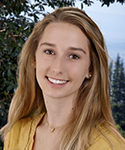 After filling my room with smoke when a faulty flat iron caused a short, and then locking both myself and AnMei out of our room, I would not consider yesterday to be one of my best days. So today, I hoped things would go slightly better; I was not let down.
We had the honor of interviewing Dr. Mamphela Ramphele and it was, at the very least, awe-inspiring. Dr. Ramphele is a medical doctor, politician, business woman, and a former activist in the anti-apartheid movement. In addition, she co-created the South African Black Consciousness Movement with figures such as Barney Pityana, whom we will interview later in our trip, as well as Steve Biko, her former partner.
The day began with waking up early to fine tune our interview questions. At this point, I was decidedly relaxed as the two questions I had initially prepared were cut in the previous night's editing session. That calmness only lasted until it ended up I would be introducing our school as well as delivering the first question. Now the stress was high. We were all feeling the pressure to bring our best, especially in our first official interview. Yet, despite this, we all were quite excited as we made our way back to the LEAP school to start our interview.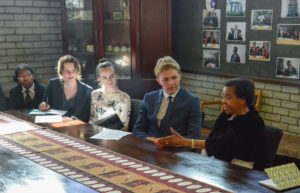 By the time we made it to the school and began to settle in, Mamphela arrived. We were not entirely ready and rushed to stand, while still simultaneously trying to find our seats. My first thought upon seeing Dr. Ramphele was that she carried herself in such a way that was undoubtedly warm and inviting, yet also fierce and strong.
Initially, I was nervous to start the interview, as were many of us. We were all unsure going into it, however as she spoke it became clear that we had nothing to worry about. Mamphela Ramphele was smart and thoughtful. She listened to our questions and responded on an even deeper level. One thing that really stood out to me was her connection with family, primarily the women in her life and how they helped lead her to become the woman she is today. At one point, while discussing the woman in her life, she said that, "Having larger than life female role models left no room for oppression from males." For me, and I am sure many others in the room, this was very truthful and something which I could relate to. I've had many strong female role models in my life, and seen the first-hand results of such role models. As the interview ended, I could not help but feel a slight sadness as I hoped that she would keep talking and sharing her wisdom with all of us. Unfortunately, she had to go, leaving us all in wonder and astonishment.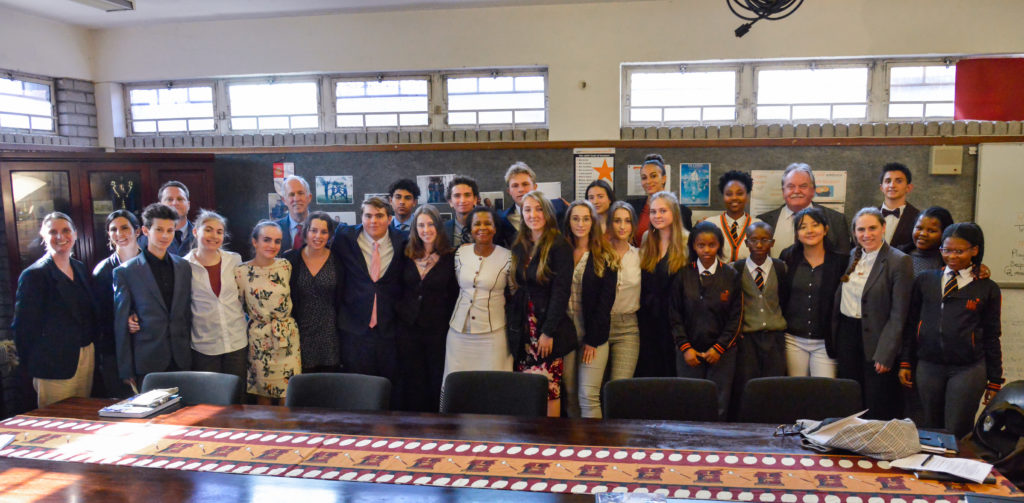 Mount Madonna students with Ramphela Mamphele