By SN Ward Mailliard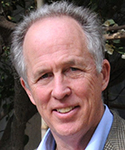 For three decades, the juniors and seniors of Mount Madonna School have traveled to Washington, D.C. every other year to interview government and non-government leaders. This rite of passage introduces our students directly to those who lead in the larger world. Now, for the first time since 1989, we will not be able to take this transformational journey. We all know the reasons. Every day since the necessary "shelter-in-place" changed the natural rhythms of our lives, most of us have experienced loss and limits on a personal level.
If we focus too much on the loss, which is quite real, it can lead to a sense of hopelessness and inertia. It is also unrealistic to think that we can magically recreate the same experience for the students in a stay-at-home world. These are historic times that, for better or worse, provide many unbidden "learnable moments" as we try to answer the question, "What will we do in our response to these inescapable moments of loss?"
As teachers, Shannon Kelly and I felt the only option was to try to find a way to move our interview program forward anyway, and redeem something from a disheartening turn of events by setting up virtual interviews. Would it work? Would people say 'yes'? Would the students buy in? We can only know the answers by trying.
Some good things have happened on the way to our upcoming virtual journey to Washington, D.C.. The first was a conversation with our friend in South Africa, Thulani Zwane. Thulani was the choir master that led us in an incredible performance experience with his students in the township of Tembisa near Johannesburg last summer. As a musician also in lockdown, Thulani had created a short song promoting COVID-19 awareness and posted it. I loved it, forwarded it to the students and contacted him to set up a Zoom conversation with the seniors. They loved seeing and talking to this vibrant personality, and at the end of it we noticed we all felt better.
Remembering how powerful our journey to South Africa in summer of 2019 was, we thought why not contact the Cloete family who founded Botshabelo Children's Aids Village where we also visited? We set up a Zoom conversation for the seniors who were excited to talk to them. We had the joy of speaking to these dedicated souls. They told us what is happening on the ground there and about the approaching wave of the virus for which they have few resources and little protection. The students dedicated their allowable percentage of fundraising from our Summit for the Planet "Keep Moving" event to Botshabelo, and we sent funds right away to help with food and mask making. We all felt a lot better.
These conversations with our friends in South Africa inspired a theme for our 2020 Washington, D.C. interviews, "Gaining a global human perspective on the effects of the COVID-19 pandemic." We will learn by talking to people who have deep commitments to equity and justice around the world and here at home. We can gain a much broader understanding from their reflections and experiences.
Almost everyone we asked for an interview said "yes." Former Secretary of State, George Shultz, Congressman Jimmy Panetta, President of Vital Voices, Alyse Nelson, President of Running Start, Susannah Welford, Vice President of Refugees International, Hardin Lang, Vice President of the U.S. Institute of Peace, David Yang and The Secretary General for Council of Women World Leaders, Laura Liswood so far.
Hopefully the learning moments will also invoke important learnings based on direct experience that:
·If you can't do a big thing you can do a small thing – you can do something
·Concern for the needs of others is a great way to reduce your own suffering
·Giving brings joy
·Commitment invigorates
·In the midst of hard times people can be incredibly generous
·Being part of a community is a huge benefit in times of crisis
Please join us on the blog and learn with us.
-SN Ward Mailliard, Shannon Kelly, and the 11th and 12th grade students